Unesco heritage list adds Bedouin and Peru traditions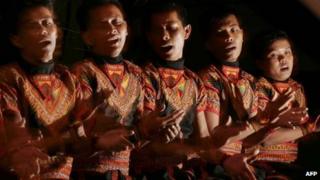 Traditional Bedouin weaving and Peruvian healing prayers are among the elements of "intangible heritage" added to Unesco's list for urgent safeguarding.
Delegates meeting on the Indonesian island of Bali have picked 11 new traditions to add to the agency's list.
Unesco says intangible heritage includes traditions and skills passed on within cultures.
It believes this knowledge has value for societies.
The traditions highlighted for protection include the Al-Sadu form of weaving practised by Bedouin women in rural parts of the United Arab Emirates (UAE). Women gather together to spin and weave, occasionally chanting and reciting poetry.
The Eshuva sung prayers of Peru's indigenous Huachipaire people have also been added to the list. They are sung to summon nature spirits from the tropical forest to help in times of illness.
China, Indonesia, Iran, Vietnam, Brazil, Mauritania, Mongolia and Mali have also had elements of their heritage added to the list.
'Maintaining cultural diversity'
The UN cultural agency's listing of world heritage sites is perhaps better known than its efforts to preserve intangible cultural heritage. The agency believes that traditions and skills can be "an important factor in maintaining cultural diversity in the face of growing globalization."
Five organisations were singled out for praise for how they safeguard traditions. They include Sportimonium which preserves traditional games in Flanders in Belgium, and Tanchaz, a Hungarian model of teaching folk dance and music.