World's papers express hopes and fears for 2012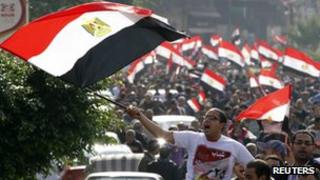 Newspapers in the Middle East, China, South Asia and Europe have mixed expectations for 2012. Fears of instability and economic problems, notably in the Middle East and Europe, are counterbalanced by hopes, especially articulated by some papers in Asia, that the year will be good for people power and economic development.
Middle East
A commentary by Eli Avidar published by Israel's centrist Maariv newspaper says 2012 should be the year in which the Israeli leadership changes its approach towards the Arab world. In the face of "waning" US influence and a lack of "orderly leadership" in Arab states, Israel "must learn to communicate... with the peoples of the region", it says.
A commentary by Samih Shubayb published in the Ramallah-based, pro-Fatah Palestinian newspaper Al-Ayyam, warns that the "great developments and events that might happen in the region" in 2012 will be "influential and dangerous to our existence, entity and future".
Striking a more upbeat tone, a commentary by Majid Murad published on the website of the Hamas-run Gaza-based newspaper Filastin sees "a number of good signs" at the start of the New Year conducive to "getting rid of dictatorships in our surrounding area". "The political changes will God willing lead to a new political map in the region in which self-determination is respected," it adds.
A commentary by Usamah al-Sharif in Jordan's Al-Dustur newspaper says that it is already clear that 2012 will be "full of events and crises at regional and international levels". In addition to events in Egypt, Yemen, Algeria and perhaps Jordan and Iraq, "all eyes are set on what will happen next in Syria", the paper says.
Syria's government-owned Al-Thawrah says people across the country "look forward to a new year full of hope and optimism", even though 2011 was "full of killings, sabotage, kidnap and terrorist acts" - a reference to the widespread anti-government protests, which Damascus and the official media portray as a militant Islamist insurgency. "In the year of challenge, Syrian citizens managed to be victorious to stress once again that they are stronger than all conspiracies and plots," the commentary by Munzir Eid adds.
China
An article by political analyst Wang Honggang published by China's Guangzhou Ribao newspaper predicts that "the global chain of unrest symbolized by the 'Arab Spring', 'Europe Summer', 'Wall St Autumn' and 'Moscow Winter' will continue to brew and trigger a series of follow-up effects", making 2012 "more complex and unpredictable" than 2011.
However, a commentary by Chen Jibing published by China's Nanfang Dushi Bao says the situation "is not really that bad". The paper suggests that the debt crisis and economic recession could be "a turning point for us to transform our economic structure and develop into a domestic demand-based economic power". It adds that the rise in awareness of people's rights could be "a starting point for reflection and scrutiny of our concept of governance and opening up a new journey of reform".
South Asia
An editorial in Pakistan's The News says that "peace and stability may be a commodity in short supply" in 2012. The paper warns of possible civil conflict in Nigeria and of deep uncertainty on the Korean peninsula while the Arab revolts are "an ongoing daily drama", but it also sees "glimmers of hope for a democratic future in Burma".
On the domestic front, several Pakistani editorials published on 1 January concur that "2011 must rank as one of the worst years in the nation's life", as The Express Tribune puts it. The Frontier Post says the year was "full of tragedy and tumult" and the Daily Times calls it "one of the darkest in Pakistan's history", while the Dawn paper says that Pakistanis "will certainly be hoping for a less traumatic 2012".
The Times of India, by contrast, is much more upbeat. India "hasn't done badly" if a slightly longer view is taken, the paper says, and internationally "the idea of people power has blossomed" in Burma as well as the Arab world. On the economic scene, "Asia has emerged as a smart young David facing a tottering Goliath" in Europe and America. To round off the good news, African nations have become "the world's latest emerging economies" as the continent's civil wars "die down".
Europe
Focusing on the eurozone debt crisis, an editorial by Serge Dassault published on the front page of France's Le Figaro warns that the country "is entering into a period which is very dangerous for its future". According to Dassault, the main cause of France's financial difficulties lies in having used loans to pay for running costs, something "all countries in the eurozone" have done.
Writing in Germany's Frankfurter Allgemeine Zeitung, Klaus-Dieter Frankenberger refuses to speculate about the fate of the euro, noting merely that "we shall know more in 12 months' time".
Frankenberger is more interested in the "rare coincidence" that in four out of five permanent members of the UN Security Council - the United States, France, Russia, and China - either presidential elections will be held or a handover of power to a new leader is expected, and believes this will make world politics more short-term orientated.
A commentary by Hartmut Wewetzer in Germany's Der Tagesspiegel entitled "The world will get better" takes a longer view. Despite repeated prophecies of doom and gloom over the last 100 years, "at the beginning of 2012 we observe that humanity is still around", the paper says, "life expectancy and prosperity are rising in many parts of the world despite so many predictions to the contrary", and the "threat posed by wars and violence has been decreasing for decades".
BBC Monitoring selects and translates news from radio, television, press, news agencies and the internet from 150 countries in more than 70 languages. It is based in Caversham, UK, and has several bureaux abroad.