Utah shootout leaves one officer dead and five injured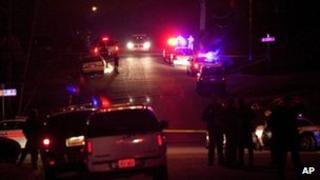 A policeman has died and five others seriously injured after a shootout in the US state of Utah on Wednesday night, officials have said.
Gunfire broke out before 21:00 (04:00 GMT) as an anti-drug police team served a search warrant at a house in Ogden.
The suspect, under guard in hospital, suffered non-life threatening injuries.
Agent Jared Francom was fatally injured, police have said, and five other officers are in hospital with serious or critical injuries.
"During the service of the warrant, six police officers as well as one suspect were shot and have been taken to local hospitals," the Ogden Police Department said in a statement.
One resident, Mat Weinberger, said about 30 to 40 shots had been exchanged during the shootout, according to the Salt Lake Tribune newspaper.
No names have been released.