Israeli press braced for more after embassy attacks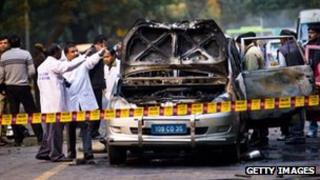 The Israeli press has dismissed Monday's bomb attacks on Israeli embassy staff India and Georgia as relatively minor, but warns that further violence may lie ahead.
The widely-held belief among commentators is that the incidents are Iran's revenge for the recent killings of several nuclear scientists - which it has blamed on Israel - or retribution by its ally, the Lebanese Shia Islamist movement Hezbollah, for the assassination of its top military commander exactly four years ago.
Most commentators say that either way, the result would not have satisfied Iran or Hezbollah, but some warn that the attacks may only be the start of something bigger, or are warnings signals against possible Western military action targeting Iran's controversial nuclear programme.
Amos Harel in Haaretz
"The attacks yesterday reveal the limits of Iran's ability to exact revenge. The choice of locations outside Israeli embassies shows the difficulty of hitting more "prestigious" targets. Surely, some tense days lay ahead, yet these 24 hours do not seem to herald a direct military confrontation with Iran or Hezbollah."
Yoav Limor in Yisrael Hayom
"It is doubtful that yesterday's events satisfied the wishes in Tehran and Beirut. A wife of an envoy who sustained medium wounds, and an explosive charge that was defused, are not equivalent to the series of assassinations attributed to Israel. Hezbollah will certainly continue to look for targets to hit."
Ofer Shelah in Maariv
"Yesterday's terrorist attacks seem to be the act of local groups - ones that can carry out a terrorist attack below the radar, but their capabilities are limited. It is obvious that this is not the end, not for them and not for us."
Alex Fishman in Yediot Aharonot
"The Iranian intelligence organisation is making a concentrated, almost desperate effort to execute a terrorist attack against Israeli representatives, in an effort to deter Israel from continuing to target Iranian nuclear scientists. Those terrorist attacks will continue, with or without any connection to the fourth anniversary on Monday of the assassination of Imad Mughniyeh, the head of Hezbollah's external operations wing."
Ronen Bergman in Yediot Aharonot
"The secret war attributed to Israel with regard to Iran and Hezbollah continues in full force. Meanwhile, Israel is winning by a knock-out, but the determination and ability of the other side must not be underestimated. What we saw yesterday could be just the beginning."
Yaakov Katz in Jerusalem Post
"One of the motives is understood to be part of Iranian efforts to deter the West from launching a military strike against its nuclear facilities by showing the world that its proxy - Hezbollah - can strike anywhere it wants, even as far away as Georgia and India."
BBC Monitoring selects and translates news from radio, television, press, news agencies and the internet from 150 countries in more than 70 languages. It is based in Caversham, UK, and has several bureaux abroad.