Parfumier Jean-Paul Guerlain fined for racist TV comments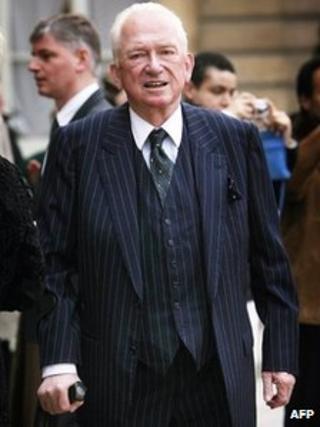 One of France's foremost parfumiers has been found guilty of making racist comments by a court in Paris.
Jean-Paul Guerlain was fined 6,000 euros (£5,000) over the remarks, which were broadcast in 2010.
Guerlain used the French term "negre", a racial slur, and implied that black people were lazy, when he explained how he worked hard to create a perfume.
He apologised to France's black community during the trial, describing his remarks as "imbecilic".
Guerlain made the comments during a 2010 interview on France-2 television, in which he was explaining how he made his famous Samsara perfume.
'Another generation'
A number of anti-racism groups filed legal complaints after the broadcast and protests were staged in front of the Guerlain store in Paris.
"I am from another generation," he said during the trial, and such expressions were "common" in the past.
Guerlain, who is 75, took over the family's perfume house from his grandfather in 1959.
The Guerlain company distanced itself from his remarks, saying his words were "unacceptable". It also noted that Guerlain had not been a shareholder in the company since 1996 or part of its staff since 2002.