Hague court demands transfer of Saif al-Islam Gaddafi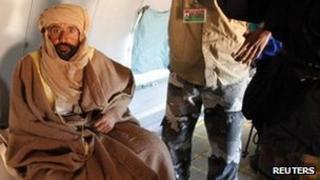 The International Criminal Court has rejected a Libyan request to delay the handover of Saif al-Islam Gaddafi.
Muammar Gaddafi's most prominent son is being held by a militia from the town of Zintan at a secret location.
In a ruling, the ICC said Libya must start making arrangements to hand him over to the war crimes court at The Hague immediately.
Saif al-Islam is wanted in connection with the violent suppression of protests during the Libyan uprising.
Libya's governing National Transitional Council has said it wants to try him in the country.
It questioned the admissibility of the case to the war crimes court in an attempt to delay the handover, but the ICC said the Libyan authorities had failed to offer the necessary evidence.
The court issued the arrest warrant for Saif al-Islam, as well as his father and the former intelligence chief, Abdullah al-Senussi, in June.
Mr Senussi was arrested last month in Mauritania and Libya is also keen to try him at home.
But the ICC says a UN Security Council resolution obliges Libya to co-operate with the court and hand the men over to international justice.