Khalil Dale: 'Every effort' made to free murdered aid worker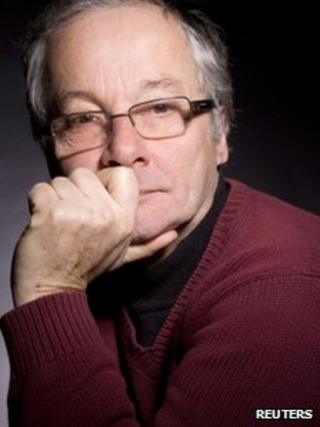 "Every effort" was made to free kidnapped UK aid worker Khalil Dale before he was murdered, the British government and the International Committee of the Red Cross (ICRC) say.
The 60-year-old was abducted in Quetta, Pakistan, in January. His body was found in the same town on Sunday.
ICRC spokesman Sean Maguire said the organisation had been in touch with Mr Dale's captors "a number of times".
Mr Dale's body has been flown from Quetta to Pakistan's capital Islamabad.
Police have confirmed to the BBC that a note left by the body said he was killed because the ICRC did not pay a ransom.
Mr Maguire told the BBC: "It is inappropriate to go into the details of any contact we had with the abductors... we did everything possible to try get Khalil out and we're very sad that our efforts failed."
He explained that the organisation would need to "take stock and review what we should be doing - and what the risk-benefit balance is of operating in different parts of Pakistan."
Mr Maguire added that the death of Mr Dale, who was a Muslim convert, would weigh heavily on his colleagues.
Foreign Secretary William Hague said "tireless efforts" had been carried out in an attempt to secure Mr Dale's release and that the British government "has worked closely with the Red Cross throughout".
Other aid agencies have said they do not send foreign workers to the area.
Save the Children, who operate in the same area where Mr Dale was kidnapped, said it had a policy of using only local workers and "probably wouldn't" recruit foreign workers in the area.
Its director, David Wright, said: "I think it's the only part of Pakistan where, really, you can say that humanitarian workers are targeted because they are humanitarian workers."
But Pakistan expert Professor Shaun Gregory said such a killing was "actually quite rare" in that country.
'Shocking and merciless'
Mr Dale was beheaded and his body was found in an orchard with a note saying he had been killed by the Taliban, local police said.
According to the BBC's Aleem Maqbool, the Pakistani government insisted it would stop at nothing to find the perpetrators and punish them.
But he added many people, including Pakistanis, would be very sceptical about the effort because of the wide extent of kidnapping in the country.
Our correspondent said it had become something of an industry, affecting both foreigners and locals.
Pakistan's High Commissioner, UK Wajid Shamsul Hasan, described Mr Dale's killing as a "dastardly act" by "barbaric terrorists".
He said authorities were investigating exactly who had carried out the killing, but that it was a very "murky" situation.
He also denied concerns that there was sympathy for the perpetrators within the country, saying there were "others who need to be blamed".
ICRC director general Yves Daccord said: "All of us at the ICRC and at the British Red Cross share the grief and outrage of Khalil's family and friends. We are devastated."
Prime Minister David Cameron described the killing as "shocking and merciless".
Mr Cameron said: "Khalil Dale has dedicated many years of his life to helping some of the most vulnerable people in the world and my thoughts today are with his friends and family."
Professor Gregory, director of the Pakistan Security Research Unit at Bradford University, described his surprise at the news of Mr Dale's death.
"It is worth remembering that this type of killing is actually quite rare in Pakistan.
"We do have to see this as the sending of a message to those who are obviously going to be kidnapped in the future... when the Taliban are seeking ransom.
"I think the message going out from the Taliban here is, when we kidnap people in the future we are serious about harming these people, and that's a very difficult message to deal with."
Mr Maguire also commented on the complexity of the situation: "Often in these sorts of places people say they are something and it turns out that they're not quite what they say they are.
"So we have to sift through the information; we have and try to come to understand what has happened and take what lessons there are to be learned."
Mr Dale, originally called Ken, lived and worked in Dumfries, south-west Scotland, in the 1990s.
Shiela Howat, who worked with Mr Dale when he was a staff nurse at Dumfries Infirmary in the 1990s, said he was "no stranger to danger", and had previously been captured in Mogadishu.
Mrs Howat, who knew Mr Dale for 25 years, said his fiancee, a nurse called Anne, lives in Australia.
"He was an absolutely lovely person devoted to caring for others less fortunate than himself," she told the BBC.
The sports journalist Nick Harris, who was a close friend of Mr Dale, described the death as "appalling" and a "brutal and pointless waste of life for a man who basically was working somewhere to try and help people".
He added that his friend had been a "peace-loving man".
"In remembering Khalil it should all be about the love that he showed and not about anger, because Khalil would not be feeling anger now."