Afghan 'policeman' faked injury to kill UK soldiers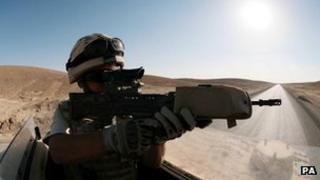 The killer of two British soldiers shot in Afghanistan on Saturday lured them to his side with a fake injury before firing on them, the BBC understands.
The troops, from 3rd Battalion The Yorkshire Regiment, died after the Afghan man - who was wearing a local police uniform - attacked them at a checkpoint in the south of Nahr-e Saraj, Helmand province.
It is not yet known whether the man was a real Afghan policeman.
The men's families have been informed.
Meanwhile, at least eight women have died in a Nato air strike in Afghanistan's eastern province of Laghman, according to local officials.
Nato says that the deaths occurred as it targeted insurgents in the area.
Following the killing of the two British soldiers, spokesman Maj Laurence Roche said the regiment had suffered a "deep loss".
He said: "Everyone serving within Task Force Helmand will want to send our condolences to the soldiers' families and loved ones at this time."
BBC defence correspondent Jonathan Beale says he understands the Afghan man responsible for the attack had first claimed to be wounded, prompting members of the British patrol to go to help him.
As the soldiers approached him, he shot and killed them. He was then killed in return fire, our correspondent says.
Meanwhile, another four soldiers with the Nato-led force in Afghanistan have been killed in a separate attack believed to have been carried out by Afghan police officers, according to Nato. These soldiers were not British.
The killings followed the death of British soldier L/Cpl Duane Groom of 1st Battalion Grenadier Guards, who was killed in Nahr-e Saraj, southern Afghanistan on Friday after his vehicle hit a roadside bomb. His family have been informed.
The Ministry of Defence said the incident was not connected with a Taliban attack later that evening on Camp Bastion - the main base in Afghanistan for UK troops as well as many from other nations. Two US marines were killed in that attack.
Prince Harry was at the base at the time of the attack.
'Terrible incidents'
While the MoD has not confirmed whether the man who shot the British soldiers on Saturday was an Afghan policeman, it is believed the incident could have been a "green-on-blue" attack.
The term green-on-blue refers to the colour-coding systems used by the US military - Nato forces are "blue" and Afghans are "green".
The number of Nato soldiers killed in this sort of insider attack stands at more than 50 for this year alone, with seven British soldiers known to have been lost in this way in 2012.
Our correspondent said the trend of green-on-blue attack was clearly worrying and was not going to stop, despite increasingly thorough checks being put in place by authorities.
Some 700 members of the Afghan security forces have been ejected in the past month as part of the checks, according to Afghan officials. But ultimately, it is very hard to guarantee against this type of killing, he added.
Earlier in the week, Defence Secretary Philip Hammond met Afghan President Hamid Karzai and said he was "reassured" that Afghan leaders were taking steps to stop attacks by their troops on foreign soldiers.
"We are all united in the view that we cannot let these few terrible incidents derail the steady progress that is taking place," he said.
The number of British military personnel killed since operations began in Afghanistan in 2001 is 430.