Truro street re-opened after suspicious package alert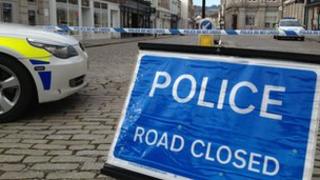 A main street in Truro has re-opened after police confirmed a package found in the city was not suspicious.
Devon and Cornwall police said the item was found in a bank off Boscawen Street.
A large section of the city centre had been cordoned off for almost three hours by police tape and seven police vehicles.
All road closures and cordons in the busy shopping centre have now been removed.
Melanie Spargo, who works at a shoe repair business in Boscawen Street, said: "We looked out of the door and saw the police taking everyone up the street.
"They told us to evacuate the shop and move up the end of the street. It would be quite exciting if it wasn't so drastic."