Papal election: Your questions to David Willey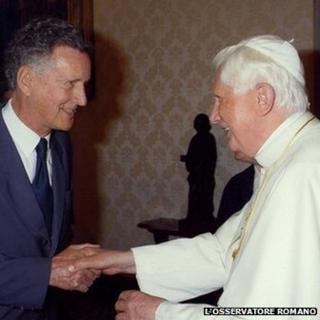 Pope Benedict XVI has officially resigned, saying that he now "will simply be a pilgrim" starting his last journey on earth.
What is the process of electing a new Pope? What challenges will he face once in the Vatican? What legacy will Pope Benedict XVI leave?
BBC Rome correspondent David Willey is answering your questions in a live Twitter Q&A.
He has covered Papal affairs, Italian politics and culture for a number of years and wrote the first critical biography of Pope John Paul II.
If you have a question on the unfolding events at the Vatican following Pope Benedict's resignation, you can tweet it, or get in touch by any of the other ways listed below.
David is answering your questions directly via his Twitter account: https://twitter.com/DavidinRome today between 14:00 GMT and 15:10 GMT.
Here are the ways you can take part:
On Twitter, tweet your question to @DavidinRome using the hashtag #AskDavidBBC
Text your question, beginning '#AskDavidBBC' to 61124 (in the UK) or +44 7624 800 100 (outside the UK).
When it's over, we'll publish the questions and answers featured in the Twitter session on this page of our website.
Although David will try to answer as many questions as he can, he won't get to all of them. Questions will be tweeted immediately before the answer, and might therefore be edited for brevity.
***THE TWITTER Q&A HAS ENDED*** An edited version of the session will appear here soon.