International Women's Day: Your stories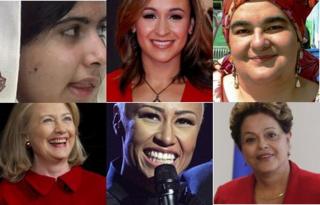 Since 1909 International Women's Day has been an opportunity for the world to focus on women and their achievements.
A diverse range of women will be acknowledged on Friday 8 March including activists, campaigners, scientists, medics, lawyers, athletes, writers and actors.
We want you to let us know who has inspired you and why. It could be a world leader or it could be your own mum. It could be a woman who has survived tragedy in life or it could be a great teacher you had at school.
Whoever she is, let us know using the form below. Please tell us why she should be remembered on International Women's Day and, if you have a photograph of her, please send it in.
You can find a selection of the stories and pictures about women who inspired BBC News website readers here.