Syria's millionth refugee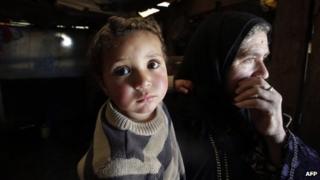 As of today, a million Syrians have fled across their borders to escape terrifying violence at home.
How do we make sense of such a staggering sum?
The UN offers this guide. That's as if the entire population of Ottawa, Canada's capital, had to suddenly leave.
Or if everyone in the city of Birmingham, in the UK, was on the run.
But this deepening humanitarian crisis is not just about numbers.
"If we just discuss numbers, we miss the real story," cautioned Antonio Guterres, who heads the UN's refugee agency, the UNHCR. "Each single family is a tragedy."
In an effort to put a human face on a grave and growing tragedy, the UN tried to find a Syrian who, on this day, was about the millionth to register. They found Bushra in Lebanon.
Only 19, Bushra already has two children. She hasn't seen her husband Mohammad for a year and two months. She now lives with 14 other family members in one small room.
"We need help," she told the UNHCR. "We hope this will end so we can go home. We cannot ask for anything more."
It was an act of bravery by a teenaged mother to speak for a million.
"So many Syrians waiting to register today did not want to come forward to speak," explained UNHCR spokeswoman Melissa Fleming. "There is still so much fear."
And fear now runs deep across the region.
Syrians have been fleeing for their lives for many months, crossing borders into Jordan, Lebanon, Iraq, Turkey, even Israel.
Human flood
"Its not just the scale," Mr Guterres told me when he came into our BBC studios in London. "It's also the acceleration."
In December 2012, 3,000 were crossing every day, in January there were 5,000 daily, and by February the human flood rose to 8,000 every single day.
And those numbers only account for those who register. There's estimated to be another 3-400,000 who haven't signed up for aid, and don't live in tented camps.
Many middle-class Syrians fled their homes with some money to support themselves. But after many months, many are now destitute, forced to ask for help. Even dignity is being lost.
"If it goes on and on, month after month, can you imagine?" Mr Guterres warned, his voice trailing off as he tried to find words to describe this crisis.
"There is a risk of an explosion in the Middle East," he added a moment later.
This is a crisis hard to exaggerate. By the end of this year there could be a million refugees in Jordan alone, a country already struggling with its own economic and political tensions.
Syrians now make up 10% of Lebanon's population. There, and in other neighbours, the Syrian exodus strains already explosive political and sectarian fault lines.
When it comes to numbers in this disaster, they're even bigger for the money that's been pledged - $1.5bn was promised by the international community at a conference in Kuwait at the end of January.
"Only 25% of that money has come," says Mr Guterres. He explained that the biggest pledges came from oil rich Gulf states who traditionally bypass multilateral agencies such as the UN or the International Committee of the Red Cross and use their own charities or bilateral networks.
"Its absolutely essential right now to concentrate the funding," he emphasised diplomatically.
Worst winter
Last July we reported on the official opening of the Zaatari refugee camp in Jordan.
All it was then was a vista of white canvas tents snapping in a hot desert wind.
Now it is packed with close to 150,000 people, far more than it was ever intended to house. Zaatari camp is now bigger than the nearby city of Mafraq.
When it first opened, the UNHCR representative Andrew Harper admitted in his speech that "no-one would want to live here". I listened back to my recording to ensure I heard him right.
I heard him right and he was right. Outside the camp, Syrians told us they would prefer to die in Syria than live in a dusty tent in the searing heat of the desert.
Then in the dead of the worst winter in decades, we met children in southern Lebanon shivering in pyjamas and sandals outside their makeshift brick-and-metal shelters.
Some Syrians did return home last year. But many more now realise there is no choice anymore.
Inside Syria, after nearly two years of growing violence, more than 70,000 have died, and four million people are in urgent need of assistance.
Today, to mark another grim statistic, there was a cascade of statements from aid agencies and officials in many capitals. All of them emphasised the urgent need to respond to this refugee crisis, and find ways to end a punishing war.
Bushra was asked to speak for a million waiting for that to happen. By the time she finished speaking, the number was even greater.
With every minute that passes, there are five more Syrian refugees, but not much more hope this war will end anytime soon.