Hugo Chavez: Your reaction from around the world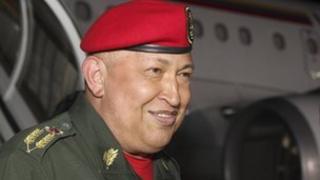 The body of Venezuela's late President, Hugo Chavez, is to be embalmed and put on display after his funeral, Vice-President Nicolas Maduro says.
More than two million mourners have already filed past his body at the military academy in Caracas, queuing for hours to see him lying in state.
Chavez died on Tuesday at the age of 58, and had been fighting cancer for nearly two years.
BBC News website readers from around the world share their thoughts on his leadership and legacy.
Elmer Perez, Adelaide, Australia
I am Venezuelan.
I am not currently living in Venezuela and this is one of the legacies left by Hugo Chavez - a diaspora of Venezuelans everywhere around the world, looking for the opportunities they were denied in their own country.
Many people felt he was a beacon of hope, but reality shows that hope was filled with empty promises and lies.
What is his most positive legacy?
He made Venezuelans interested in politics and realising the importance of becoming active participants in the political life of the country.
Andreina Landaez, California, US
He will be remembered as Venezuela's nightmare.
I'm in the US studying because my country doesn't provide me with the future that I deserve. But I think of Venezuela every day.
He made me love my country even more, because now I have an unexplainable hope and motivation to work and make Venezuela a better country.
He made us learn from our mistakes and the gaps in Venezuelan politics.
Too much hatred has been created among Venezuelans, which I think has hurt Venezuela more than anything.
I hope that my country can become a better place now - it will take us years, but it's possible.
Damian Hosford, Barcelona, Spain
He was a champion for the majority of Venezuelans living on next to nothing, but he destroyed the middle-classes and created more of a social divide.
I lived in Venezuela for four wonderful years, and things were calm pre-Chavez.
His rhetoric and bombastic approach continues to inspire people to take the law into their own hands.
The country has become violent. I was kidnapped at gunpoint and the car I was in was stolen by thieves.
People are forced to hand over money from cash [machines] and you can't walk around freely with a mobile phone. This is not a way to live.
My wife's family are now either struggling or have emigrated. They do not wish to bring their children up in a climate of fear, food shortages and rampant inflation.
An entire generation of Venezuelans has been lost. What has Chavez done for the future?
Margit Borcsok, Tegucigalpa, Honduras
Hugo Chavez never took care of his people.
Economically he has devastated Venezuela, destroyed the agricultural industry and hammered the free press.
He wanted to conquer the world, and be loved by the people, just like all dictators, crazy sect leaders and the like.
In Honduras we ousted President Manuel Zelaya for many good reasons, and Hugo Chavez was on international TV saying he would invade us and "put Mel back in the presidency".
I strongly hope Vice-President Nicolas Maduro will not become president, but I know he will, since elections are not fair and there is no way to stop election fraud.
Quita M Flomo, Monrovia, Liberia
Hugo Chavez's death has dealt a serious blow to Venezuela as a nation and its people.
Even in the face of seemingly external tactics to malign this noble gentleman as a self-proclaimed revolutionary, he did well and served his people.
Most of our African leaders use people to get to power but don't serve them when they get elected.
No leader who doesn't leave a legacy of serving their people, in spite of external distractions, is worthy to be called a leader.
It is my ardent prayer that Vice-President Nicholas Maduro will follow in the footsteps of his predecessor and serve the masses.
I hope my government could emulate this good example and make us the citizens proud and use the oil to give life to the people.
Fengfan Yang, Nanjing, China
We are deeply mourning to the death of President Hugo Chavez, whose socialist ideal is highly appreciated by the people, especially the poor people, in South America.
He is obviously a great leader with an attractive personality in Venezuela, who actively promoted the union of South America.
This political ambition should be highly encouraged and respected.
I think that Mr Chavez's ultimate goal is for South America to become one of the most powerful blocs in the future political map that consists of the European Union, US, China, Russia, African Union and South America union.
This is a sad time, but also a new era for the new Venezuela.
Antoni Kristi, Kingston, Jamaica
I'm so saddened by the death of President Hugo Chavez.
He was a true man of the people.
But now the Jamaican government is worried the PetroCaribe deal they signed with Venezuela to supply Jamaica with oil might fall through.
Venezuela offered to provide Caribbean countries with oil under flexible financial terms.
But because of Chavez's death we don't know if the deal we had will continue, and what that will mean for Jamaica.
Terry Morris, Dunedin, New Zealand
Hugo Chavez did far more for his people than most leaders across the ages have ever done.
He kept at bay, at least in part, the greed and avarice of those, both national and international, who would sequester wealth for themselves.
This is not an easy task; the temptations are there for everyone in power to join the ranks of the corrupt.
I'm truly and deeply saddened that the ordinary people of Venezuela have lost a great and courageous champion of their rights and that the world has lost an all too rare example of commendable leadership.
Like all of us, Hugo Chavez was not a saint but his life had real and lasting meaning partly because, in turn, he brought hope to millions of those who, without him, would have had nothing but grinding poverty and despair.
Compiled by Andrée Massiah