Regional press sees little point in Obama visit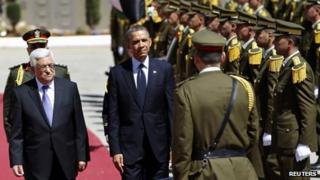 On the second day of the US president's visit to the Middle East, the reasons for the trip are preoccupying Israeli commentators, with one speculating that Mr Obama is playing for time because he does not know how to deal with the Iranian and Syrian problems.
Palestinian and Arab writers are also largely pessimistic about the visit, with the Israeli Arab daily, Al-Ittihad, suggesting that Mr Obama's speech proves that the Palestinian cause has slipped to the bottom of the US agenda.
Notwithstanding, a commentator in the daily Al-Ayyam believes his fellow Palestinians should not greet Mr Obama by throwing shoes at him.
Sima Kadmon in Israel's centrist, mass circulation Yediot Aharonot
Obama is here for one reason: To accumulate an inventory of positive attitude, of trust, in the run-up to the next moves, because if he intends to push Netanyahu to a peace move - without trust this will not happen.
Aluf Benn in Israel's left-of-centre, independent broadsheet Ha'aretz
The visit comes at a time when the United States is withdrawing from its deep involvement in the Middle East... Meanwhile, Obama has no answer to the Iranian problem, or to the disintegration of Syria... So he's playing for time by whispering sweet nothings of unconditional love and support into the ears of the Israeli people.
Shmuel Rosner in Israel's centrist Ma'ariv
Obama came to Israel to remind the Jews to what extent he supports them; to what extent his commitment to their security is unshakeable - Will he succeed in convincing a few Jews of his friendship...? A good question.
Herb Keinon in Israel's English-language Jerusalem Post
Living in a world in which there are those who have not exactly accepted our right or legitimacy to be here, having the most powerful man in the world come and give us a public bear hug is very important... he said the US had Israel's back. And that is a significant difference from when the two leaders first met in the White House four years ago.
Editorial in Israeli Arab Communist Party organ Al-Ittihad
Obama's speech, which was full of admiration for Netanyahu and his aggressive policy... expressed what America expects from the Israeli government: to fulfil its role in protecting US imperialist interests in the region. Both Israeli and American priorities are now clear; the emphasis on Iran and the situation in Syria place the Palestinian cause and the Israeli occupation at the bottom of their agenda.
Mahmud Abu-al-Hayja in Palestinian Authority-owned Al-Hayat al-Jadidah
We do not want anything from our guest but to examine the scene well. It doesn't require much effort to understand the truth behind it that it is not in line with truth, justice and beauty. It will remain unchanged as long as the occupation keeps dominating it with its darkness and injustice.
Talal Awkal in privately-owned, Ramallah-based, pro-Fatah Palestinian newspaper Al-Ayyam
All the factions, including Fatah, expressed pessimism about the outcome of the visit... Does this mean, however, that the Palestinian people should receive the US president in an inappropriate manner such as hurling various objects at his motorcade?
Isam Shawir in Palestinian Hamas-run, Gaza-based newspaper Filastin
The visit... will only add more memorial photos at the White House, increase the support to the State of the Israeli occupation and amplify painful memories of the Palestinian people... We respect those who demonstrated against the US administration and its biased policy to the state of the occupation, 'Israel', and ripped up Obama photos.
Editorial in pan-Arab independent, Arab nationalist Al-Quds Al-Arabi
We do not think that US President Barack Obama is visiting the region for tourism and to enjoy seeing the churches of Bethlehem and Jerusalem... It is difficult to conclusively judge this tour and its outcome. But, what we can conclude is that it is a tour that is possibly aimed to prepare for war, whether against Iran or to overthrow the Syrian regime, or both.
Tahir al-Idwan in Jordan's privately-owned, pro-government Al-Ra'y
His visit may be an occasion to present Netanyahu and the ruling rightist gang as peace-loving... The other fear is that Obama's visit may be an attempt to rally Arabs behind a US-Israeli plan to attack Iran and expand war and unrest in the region... In both cases nothing good will come out of Obama's visit.
Editorial in Egypt's state-controlled daily Al-Ahram
Despite the wide dreams of Palestinians and Arabs after the famous speech by Obama at Cairo University in 2009, these hopes have gradually evaporated until it almost reached the complete absence of the US from the Middle East peace process... Obama came to the region to improve his image in the eyes of the Jews of the Hebrew state; and not, as analysts say, for the sake of the region's peace.
Editorial in Egypt's state-run daily Al-Jumhuriyah
Observers do not expect Obama's tour to result in anything related to the Palestinian cause which was the core of the Middle East conflict before Arabs were preoccupied by their internal issues.
Rafiq Khuri in Lebanon's independent, centrist Al-Anwar
Obama's visit to Israel is a practical attempt to improve his image... He carries no new initiative or plan and if he was to refer to the two-state solution, he would still avoid getting involved in the peace process, knowing that Netanyahu's government isn't ready and does not wish to reach a settlement.
Mazin Hammad in Qatar's privately-owned, pro-government Al-Watan
We do not think that US President Barack Obama will accomplish anything during his tour... Obama will not intervene to help Israel save itself as Israel's major supporters in the US want it to... Obama will leave with an empty head and tied hands just as he came
Editorial in Kuwait's independent Al-Siyassah
Will Obama's visit become a historic event that marks the beginning of a new phase as is the case with former US presidents...? Or will he confine himself to protocol with an oral emphasis on peace and enjoy visiting museums like a tourist?
BBC Monitoring reports and analyses news from TV, radio, web and print media around the world. For more reports from BBC Monitoring, click here. You can follow BBC Monitoring on Twitter and Facebook.