Operation Elveden police drop Mike Sullivan probe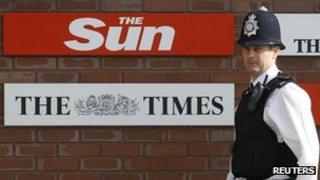 Scotland Yard has dropped its investigation into Mike Sullivan, a journalist from the Sun newspaper, arrested under Operation Elveden.
Mr Sullivan, the newspaper's crime editor, was arrested in January 2012.
Without referring to him by name, the Met said there would be no further action against the 49-year-old - the 11th to be arrested in the inquiry.
Operation Elveden is investigating allegedly inappropriate payments from journalists to public officials.
Mr Sullivan told the BBC: "I am very pleased. It has been a long 14 months in many ways, but my delight at the news today is tempered by the fact that so many colleagues are still in the same situation. I hope they find some resolution."
'Difficult circumstances'
A spokesman for News International, publishers of the Sun, said: "We can confirm that the police have concluded that no further action is to be taken against Mike Sullivan, the Sun's distinguished crime editor.
"After more than a year of uncertainty we are pleased that Mike can now carry on with his work without this distraction. We are grateful to him and others for the professionalism they have shown under very difficult circumstances."
The Metropolitan Police has arrested more than 100 people as part of its combined investigations into journalists who allegedly hacked phones or have been involved in other potentially illegal methods of gaining information.
Eighteen people have been charged with offences. Five public officials - three of them police officers - have been convicted of misconduct in a public office in relation to their dealings with journalists.
Last month, Richard Trunkfield, who worked at Woodhill prison near Milton Keynes, was jailed for 16 months for passing on details about one of James Bulger's killers, Jon Venables.
Ex-Surrey PC Alan Tierney, received 10 months for selling details about two cases linked to high-profile people.
A Metropolitan Police detective, April Casburn, was the first to be jailed after being convicted of offering to sell information to the News of the World. A third police officer, jailed for two years, cannot be named for legal reasons.