Margaret Thatcher dies: World media reaction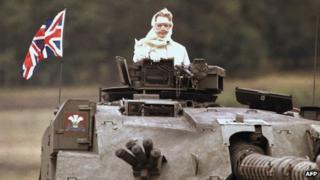 Former British Prime Minister Baroness Thatcher has died at the age of 87 after suffering a stroke.
In power from 1979 to 1990, the "Iron Lady" was a hugely influential figure on the international stage.
She built a close relationship with Ronald Reagan, helping the US president bring an end to the Cold War and took Britain to war in 1982 over Argentina's invasion of the Falkland Islands.
The following is a selection of views from Monday and Tuesday's world press on her legacy.
Germany
"She was tough. On herself. On us. On Britain. For the sake of Britain," writes Norbert Koerzdoerfer in the tabloid Bild. "German reunification was a tragedy for her: 'We've beaten the Germans twice and now they're back!' She was the first woman to break through Britain's old-boy-dominated society. She dismissed feminism - but thought women were stronger than men. She was hated. She was not loved. But she was admired."
In the news weekly Spiegel, Christoph Scheuermann calls Mrs Thatcher "the great divider, who irrevocably smashed the British consensus around a convergent society, and split the country into right and left halves, into the haves and have-nots. Into those who can and those who should just give up, because there is no place for the unproductive." He adds: "This rift still exists today. David Cameron's polemics against alleged spongers and layabouts are fed by a collective mistrust of anyone who depends on state handouts."
A commentary by Thomas Schmid in Die Welt says: "With aplomb she cut back the trade unions and woke the country from its royalist-socialist sleep. But for Thatcher - as for many - her greatest strength was also a weakness. She readied Britain for the capitalism of the financial markets, but also took her country closer to deindustrialisation. Eagle-eyed about attempts to inflate the EU into a superstate and its unctuous idealisation, she reined in the EU expansionists - but also discredited the EU in her own country." But, he concludes, "like no other politician of the past century, she got by without jiggery-pokery, touchy-feeliness and collective pathos. This alone guarantees her place in history."
Argentina
"Thatcher's economic reforms exacerbated inequality in the United Kingdom. The policy of deregulation that she and Ronald Reagan championed is now being questioned because of its links to the subprime debt crisis. [But] her methods for shrinking the state pale in comparison with the cuts being considered by the government of David Cameron," writes Francisco de Zarate in Clarin.
"More than two decades on, the legacy of the 'Iron Lady', the implacable flag bearer of political conservatism and economic liberalism, continues to divide the British," reads an article in Pagina 12.
South Africa
The last apartheid-era president, FW de Klerk, is quoted in Business Day as saying: "Although she was always a steadfast critic of apartheid, she had a much better grasp of the complexities and geo-strategic realities of South Africa than many of her contemporaries. She consistently, and correctly, believed that much more could be achieved through constructive engagement with the South African government than through draconian sanctions and isolation. She also understood the need to consider the concerns and aspirations of all South Africans in their search for constitutional consensus."
France
In a blog post on Le Figaro, Pierre Rousselin writes that Margaret Thatcher "not only pulled the United Kingdom out of a seemingly hopeless state of decline. She left behind a valuable legacy across the British Isles and across ideological borders: driven by bright ideas and a flawless determination, a Western democracy can achieve recovery."
But in Liberation, Francois Sergent is scathing about some aspects of her legacy: "The miners, the Argentines, the hunger strikers were the victims of a politician who brought nationalism to the limits of chauvinism and anti-European xenophobia."
Italy
"Margaret Thatcher was one of the most praised and reviled political figures in modern British and international history, and the only person after Winston Churchill capable of taking on the role of leader of the conservatives. She was a revolutionary who dismantled the post-war welfare state and an implacable anti-communist. It is precisely for this reason that she was one of the figures most detested by the left worldwide," writes Leonardo Maisano in Il Sole 24 Ore.
Gianni Rotti, in La Stampa, writes: "Aristocrats and intellectuals alike detested the bourgeois virtues of the future Baroness: 'prim', as they say in English, rigid, inflexible, sitting calmly with her handbag in her lap… The grandchildren of those who used to listen to The Clash and had the Thatcher Dracula poster over their beds, yesterday held her responsible, on Twitter and in blogs, for the 2008 financial crisis and for today's unemployment."
Sara Gandolfi, in Corriere della Sera, says: "In the 1970s, Great Britain was a Dream Country. Then along came Mrs Thatcher, with her big hair and her uncompromising conservatism… For many young people, with their heads full of idealism and vague leftish ideas, it was the end of a Dream."
Spain
"Thatcher, who governed the UK between 1979 and 1990, profoundly transformed the country's political and economic life and in a way recalled the old, already lost, glories of empire. But she was also a deeply controversial figure who divided the country into two opposed halves," writes Walter Oppenheimer in El Pais.
Felipe Sahagun writes in El Mundo: "For her admirers, she put the 'Great' back into Great Britain. For her critics, she was an ideologue who legitimised inequality, made education and health worse, caused terrible damage to public services, prostituted the prestigious BBC and destroyed the British people's deep-rooted sense of solidarity and civic pride."
Russia
Writing in Kommersant, Maksim Yusin says "Lady Thatcher was respected even in the USSR, even though she was an irreconcilable ideological opponent of the first Soviet State … [She] addressed Soviet viewers uncensored and uncut. And this became a sensation, and destroyed many stereotypes."
"Her extremely decisive political style will remain in people's minds as the scalpel of a surgeon, who ruthlessly leaves behind gruesome scars," says an article in Izvestiya. "The world is facing previously unseen consequences of the expansion of global speculative financial capitalism which brought us the destructive crisis of 2007-2008. And this is also the consequence of Thatcher's neo-liberal reforms to a large degree.
In the same paper, Melor Sturua writes: "She really was a 'grocer' - both in an English and in an international sense. That is, a person who only relies on herself and on her ability to survive in difficult conditions. Lifting all restrictions on free business activity, she left Britons without social security. Naturally, they did not like her very much for this."
"Few female politicians were able to turn their system of views into a school of thought, and, if you like, an applied philosophy. Few iron ladies managed to remain ladies in power," reads an article by Vladimir Mikheyev in Trud.
China
A commentary in the leading state newspaper, the People's Daily, reads: "Faced with the weak economy, she launched a series of broad reforms from which the British are still benefiting today. Mrs Thatcher, the most distinguished female politician of the 20th century, has left the world with glory and controversy. An era has ended."
India
"Thatcher's greatest achievement was to change economics in the face of toxic politics, and then change the politics of her country itself. Whenever anyone needs to find an example of what politics of conviction - the conviction informed by a faith in the market and in entrepreneurship - can achieve in a democracy, Thatcher would be a natural candidate," says an article in India's Economic Times.
Middle East
In Israel's Ma'ariv, Nadav Eyal notes how "from the day the Iron Lady left Downing Street, she has not stopped being a magnet for discussions, research, bad language and blind admiration. Margaret Thatcher was and remains a bigger than life image, a big eucalyptus all of whose offspring are dying in its shadow."
An opinion piece in Iran's reformist Sharq paper reads: "The Iron Lady largely put the longstanding tradition of collective management aside and instead ran the tradition of individual leadership and management. If Thatcher had appeared in a third world country, her followers and supporters would have stayed in power after two decades. The final analysis of Thatcher's experience showed that democracy and the people's vote is the last word in Western societies."
"There is a rare kind of political leader who … has the ability and will to implement unpopular policies and leave their mark for many decades and their policies thereafter become acceptable or adopted in one way or the other. One of these was Margaret Thatcher," reads a piece in the London-based Arabic-language Al-Sharq al-Awsat.
BBC Monitoring reports and analyses news from TV, radio, web and print media around the world. For more reports from BBC Monitoring, click here. You can follow BBC Monitoring on Twitter and Facebook.