Israel's Benjamin Netanyahu casts wary eye over region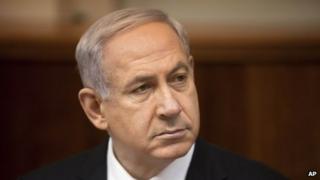 In an exclusive BBC interview, Israeli Prime Minister Benjamin Netanyahu told me "Israel reserved the right to act" to prevent advanced weaponry from falling into the hands of Islamist groups in Syria, and to stop Iran from acquiring nuclear weapons.
A "right to defend itself, by itself" is invoked a lot by Israel these days.
Asked whether President Obama had given Israel what is often referred to as a "green light" to act militarily on Iran, Mr Netanyahu quipped: "Israel's right to defend its existence is not subject to a traffic light."
A number of people close to the prime minister have emphasised, in conversations over the past year, how Mr Netanyahu sees stopping an Iranian atomic bomb as his "mission".
"It's in the prime minister's DNA," said one senior Israeli official.
Last year he had railed against the United States for allegedly stopping Israel from taking military action, if necessary, to stop Iran's nuclear programme. Iran continues to insist its programme is entirely peaceful.
Israeli officials underline how it rankles Israel not to be able make its own decisions when it comes to its own security.
But Mr Netanyahu's confidence has been bolstered by what he and President Obama now refer to as "unprecedented" military and intelligence cooperation on this issue.
"He seems more relaxed now," reflected the BBC's Iran analyst Kasra Naji.
Watching the clock
Last September the Israeli leader grabbed world headlines at the United Nations when he drew a crude cartoon bomb slashed by a red line, which he warned Iran would not be allowed to cross.
Then, he predicted they would be at that point by this spring.
But when I met Mr Netanyahu in London this week, he told me Iran had not surpassed the threshold of enriching enough uranium to move quickly towards a bomb. "They've sort of crept up but not crossed it," he said.
I pressed him on how much time was left on the clock. There's "less time", was all he would tell me.
Western diplomats say Iran is now being "very careful".
In recent weeks, both Mr Netanyahu and his Army Chief of Staff Benny Gantz have made it clear that not only is Israel ready to strike militarily, if necessary; they say Israel also now has the military means to do so.
"Israel has a military option on Iran," said one senior Israeli official who would not go into further details.
But Mr Netanyahu said he didn't want to "get into the discussion" about the significant opposition he faces at home from a nervous Israeli public and security establishment which worries a controversial military strike on Iran's heavily guarded nuclear installations could spark a regional war.
'Which rebels?'
But Israel has a more immediate concern right now - a deteriorating situation next door, in Syria. On this front, Israel has taken action, and Mr Netanyahu made clear, would do so again.
What he told me hinted at a more interventionist approach.
But he refused to go into details on what he called "Israel's constant plan to defend itself".
The prime minister wouldn't confirm what Israeli officials have told the BBC privately - that Israel warplanes targeted a Syrian government weapons convoy in January reportedly en route to Hezbollah fighters in neighbouring Lebanon.
But he stressed, "I'm sure the leaders of Syria, whatever is left of Syria, understand that Israel will always take action against those who attack it." Then he added, "The question is: do the terrorists who operate in Syria understand that?"
He underlined Israel's growing concern over the rising strength of Islamist groups operating in Syria and the risk that "very, very dangerous weapons" such as anti-aircraft and chemical weapons could fall into their hands.
It's understood Mr Netanyahu discussed the arming of Syria's rebels during his talks with Britain's Prime Minister David Cameron.
Britain, as well as France, is calling for an EU arms embargo, which runs out next month, not to be extended, so that arms can be provided to rebel groups.
"I have one question," he said "which rebels and which weapons?"
He clearly recognises there are no good options on Syria right now. In his words, "It's the bad fighting the bad."
Dashed hopes
The entire neighbourhood is worrying Israel.
"This is a Middle East that is imploding and instead of having the Arab Spring produce the hopeful revolution of the Google kids taking over, what we're seeing in many lands is the opposite."
Israel is accused of isolating itself by not moving more decisively and convincingly on peace-making with the Palestinians.
Mr Netanyahu reiterated his support for "a two-state solution", including a Palestinian state.
But many doubt his true commitment given that his new coalition government is dominated by settler leaders.
And just this week, his housing minister Uri Ariel of the Jewish Home party said it was Israel's "right and obligation" to build new homes in the sensitive area known as E1, near Jerusalem in the occupied West Bank.
The EU has warned that such a move would represent the biggest threat to the two-state solution.
US Secretary of State John Kerry, who's just finished another trip to the region, cautioned that only two years remained before the window of opportunity closed on a Palestinian state.
Mr Netanyahu made it clear in our interview he will act on Israeli fears, to defend his country. The question many ask is whether he will also act on the hopes of those who still believe a two-state solution is the best way to help strengthen the security of Israel.