How will Imran Khan's fall affect Pakistan's election?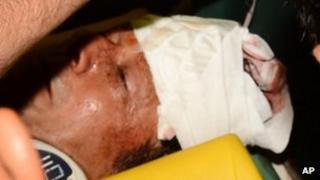 In an election called the most unpredictable in Pakistan's history, the campaign took a turn no-one expected.
Imran Khan, a rising political star, took a fall.
Images of the country's former cricket captain tumbling from a wooden lift next to a stage played over and over again on Pakistan's many 24-hour channels.
And, with his fall, the political high ground rose. His chief challenger, Nawaz Sharif, declared at his rally he was cancelling his campaigning the next day in sympathy and solidarity.
Political leaders across the spectrum sent wishes and offered prayers.
President Asif Ali Zardari sent flowers to the Lahore hospital where Mr Khan was under observation after suffering a head injury that needed several stitches.
Suddenly, there seemed to be a rare moment of fair play on the political playing fields.
After weeks of denouncing and demeaning each other, bitter rivals ended the invective.
Point-scoring?
Across social media, where this election has a life of its own, comments poured in to commend Mr Sharif, the two-time prime minister now facing the fight of his political life against Mr Khan.
"Fantastic maturity"; "brotherly spirit"; "classy" were just some of the adjectives spilling across a Pakistani Twitter timeline.
But in a country where political debate is a popular sport, others landed a harder punch.
"All busy scoring points," wrote one tweep.
Pakistani writer Abbas Nasir, commenting on Mr Sharif's move, tweeted: "Shrewd political manoeuvre rather than a gracious act/gesture. Should be seen as such. Probably work too. "
British Pakistani writer Kamila Shamsie tweeted me to say: "That is fair play but then we have to ask: Why have there been no suspended rallies when candidates are killed?"
Her message came from the southern city of Karachi, where candidates and party offices are attacked almost daily by the Pakistani Taliban, who've declared this election unIslamic.
Three major parties are on their hit-list, but not Mr Khan's Movement for Justice or Mr Sharif's Pakistan Muslim League.
On the same day as Mr Khan's accident, a bomb targeted the brother of a candidate for the Pakistan People's Party in north-west Pakistan. Zahir Khan was killed along with five others.
Neither Nawaz Sharif nor Imran Khan has come out strongly in this campaign to condemn the violence against their rivals as a brutal assault on democracy.
"Three provinces are facing dire violence but unfortunately the political parties have not got together on a common platform to unite against the Taliban," said Pakistani writer and journalist Ahmed Rashid.
Both Mr Sharif and Mr Khan offered defensive replies when I asked them about their ability to campaign in relative safely, while others were under major threat.
Mr Khan insisted he wasn't pro-Taliban. He described himself as anti-war and emphasised it was time to talk to the Taliban.
Mr Sharif protested that he had expressed sympathy with victims and their families, and that his party had been targeted too.
Spin doctors' tail-spin
The debate is certain to go on until election day and beyond over whether sympathy votes will now go to Mr Khan as he emerges, bandaged, from hospital to continue the fight.
And whether Mr Sharif's response was shrewd or sympathetic, will the man who's been regarded as the front runner escape any political injury?
As the day began, the popular Dawn newspaper cartoonist Zahoor had depicted Imran Khan painting a portrait of a smug Nawaz Sharif falling from a cliff.
When the day drew to a close, it was all about Mr Khan falling from a stage.
And from his hospital bed, the wounded politician spoke: "On May 11th, consider this your battle, it's not just my battle, it's a battle for this country."
A televised moment of high drama sent spin doctors, on all sides, into a tail-spin.
No-one can say with certainty here what the next day, next rally, and this next election, will bring.