Talking Pakistan politics in Cafe Bol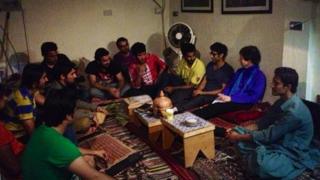 In a back street salon in Lahore, there's a small space for big ideas. And right now, there is no bigger idea than the future of Pakistan as it goes to the polls.
"We are hoping something new might come, not what was repeated for 66 years," comments 24-year-old Qadeer Zarkoon, as he and a group of students settle in for another an evening of lively discussion at Cafe Bol.
This informal gathering space, like most of Pakistan, is torn - between savouring a new sense of change, and still fearing the future.
"It's the first time ever in our history an elected democratic government completed its tenure," Qadeer points out. "At least it paves the way in the direction of democracy."
Pakistan entered this election encouraged by a rare achievement in a country ruled by the military for about half of its history. The last elected government managed to rule for five years without being thrown out by political machinations or a coup.
But that accomplishment was then followed by a campaign marred by unprecedented violence.
Coming of age
"How can we make a difference when constituencies are targeted on a daily basis by bomb attacks?" mourned 21-year-old political science student Zeeshan Yousef.
"How can we even be sure who we are going to vote for if the parties are not allowed to present their manifestos?"
Across large parts of Pakistan, attacks by Taliban and other militant groups mainly against more liberal political forces, meant some parties were hardly on the hustings.
As the discussion continues at Cafe Bol, you can feel the political heat rising in a cosy room, only about 6m by 3m (20ft by 10ft), tucked away in a vast warren of shops. Lit by candles, and cooled by paper fans on another night of power cuts, the atmosphere is deliberately rough and ready for a raw debate on the issues.
Bol means "speak" in Urdu. It was a rallying cry during the 2007 Lawyers Movement, a groundswell of protest against the sacking of the chief justice by the then-leader General Pervez Musharraf.
Many in Pakistan see intense engagement by civil society as a spark that still fuels some of the great enthusiasm in these polls - in spite of the violence.
"Resistance in Pakistan is something every generation has experienced and been part of," reflects lecturer and Cafe Bol co-founder Qalandar Bux Memon.
And for at least some in this generation, the elections are a political coming of age.
Forty million young Pakistanis are eligible to vote for the first time. The charismatic cricketer-turned-politician, Imran Khan, has been able to tap in to that yearning for change. Other parties have latched on to the same mantra of "Naya (New) Pakistan."
Urban-rural split
I've received messages on social media from young people living in volatile cities like Karachi and Peshawar that they are determined to cast their ballot, no matter what.
Others are understandably cautious.
"People are very scared," commented 22-year-old Amin Ullah, who is from the sensitive province of Balochistan, under army rule after a wave of sectarian violence. "I think only 20% will vote there."
It would be wrong to see a youth wave as a monolithic force for change.
A recent British Council survey of young Pakistanis between the ages of 18 to 29 found only 29% believed democracy was the best political system for the country. Military rule scored higher.
"In urban areas, there is real engagement," comments 23-year-old Ali Moeen Nawazish, who was recently appointed as a "Youth Ambassador" by Pakistan's popular GEO News TV.
"In more rural areas, it's not as evident," he said when we met in the capital Islamabad. "The 'breaking free' has yet to happen."
At Cafe Bol, college students think the answer to Pakistan's woes lies in political change.
"There are many problems", regrets Qadeer, "but the solution is more democracy."
"We feel the power," declared 22-year-old Moussa Ghaznavi, the son of a rickshaw driver now studying media science.
"But we fear corruption, fear flawed elections, fear that if this happens, the dream won't be there anymore. "