Live the story: Your questions to Komla Dumor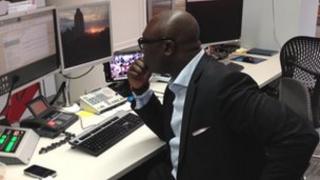 What's it like to 'live the story' during a major news event?
To help bring the viewer closer to the heart of BBC News reporting, we've been holding a series of special Q&A sessions on Twitter with our global correspondents.
In the fourth of a series of live Twitter Q & A sessions, Komla Dumor answered your questions about his own experience of reporting for the BBC and of covering African football.
Here is an edited version of the session which was held on Tuesday 4 June 2013.
Question from Ajala Odunayo on Facebook: You support Ghana, so how did feel when they were beaten by Uruguay in the WC quarter-final? #AskBBCKomla
Komla answers: It felt terrible to watch Ghana lose-to come so close and not win was heartbreaking for me and I think for most across Africa
Question from Ezea Kenneth on Facebook: How did it feel to see the first ever World Cup on African soil? #AskBBCKomla
Komla answers: It was an amazing experience. It was not about football. It was about an Africa country emerging on the world stage.
Question from @MattLee345: Has the 2010 WC had genuine benefits for the rest of the continent as promised by Blatter? #AskBBCKomla
Komla answers: I have my doubts WC in SA put Afr football on the map but Afr football is run by CAF and many feel there is a need for change there
Question from @fongymonpedra: #Ghana is in court over the legitimacy of the presidency after its polls, how will it affect its electoral success?
Komla answers: Regardless of the outcome, the electoral challenge in Ghana will test the courts and strengthen democratic institutions #AskBBCKomla
Question from @kenny_mannie: From your SA experience and extensive travels around Africa, can Africa host another World Cup anytime soon?#AskBBCKomla
Komla answers: Any time soon? I'm not sure. SA is still the only country that I think can manage logistics of that scale now but in future YES #AskBBCKomla
Question from @roger_dakey: You left a vacuum in the Broadcasting sector in Ghana. Do you think there are others who can fill that vacuum? #AskBBCKomla
Komla answers: Thanks for the compliment I think there are many talented b'casters in Ghana and I think Ghanaians are the best judge of that #AskBBCKomla
Question from Maya Kamat on Facebook: Did you enjoy your Vuvuzela moment? #AskBBCKomla
Komla answers: I love the vuvuzela to be honest!#AskBBCKomla
Question from @bossmizzle: Do u think the ICC targeting only war lords in Africa is unfair considering what's happening in other countries #AskBBCKomla
Komla answers: Targetting? Not sure because ICC acts on the request of countries and the UN but true that mainly Africans have been brought before it #AskBBCKomla
Question from @scott789: Is there any signs that the 2010 WC has inspired more Ghanaians/Africans to get involved with football? #AskBBCKomla
Komla answers: In Ghana football is life. WC did not change that at all. Perhaps unified the country for a fleeting moment #AskBBCKomla
Question from @vincenimoh: Do you aspire to move from World News to National News? #AskBBCKomla
Komla answers: I go wherever there is good journalism to be had. BBC news works fine for me globally or domestically #AskBBCKomla
Question from @OtiAdjei: How huge in professional experience terms was covering the tournament for an international audience? #AskBBCKomla
Komla answers: Immense. Working TV and radio on location-doing live programs w connecting diff parts of the world-an eye opener definitely #AskBBCKomla
Question from @Piousali: Do you have any advice for young Africans who want to follow your footsteps to a global platform in broadcasting? #AskBBCKomla
Komla answers: Start small but think big, be ambitious about the quality of your work. Be consistent. Always think about your audience #AskBBCKomla
Question from @JeremieSia: Hi Komla, in one sentence describe your work with the BBC? #AskBBCKomla
Komla answers: I do BBC Quality journalism and share it with a global audience on television #AskBBCKomla
from @nickysparkzz: Do you miss the Banku with Tilapia in Ghana? #AskBBCKomla
Komla answers: I miss GhaTilapia but having travelled around Africa I miss Nyama in Kenya,Braais in SA Isiewu in NGR. Africa sweet #AskBBCKomla
Question from @kwamiAyensu. What has been your most striking experience working with the BBC? #AskBBCKomla
Komla answers: Too many. Great interviews. Launching our new studios. Presenting W Cup. Royal wedding. Obama in Ghana. Africa biz report #AskBBCKomla
Question from @LolanEkow: Do you think Africa needs an African-owned international media giant similar to Aljazeera for the Mideast? #AskBBCKomla
Komla answers: The more coverage the better. Africans should tell their story. That's why BBCAfrica. African producers/presenters/experts #AskBBCKomla
Question from @a2ya_kemi: What has been the most difficult interview you've done? #AskBBCKomla
Komla answers: An Italian coach called Dossena. Every time I asked a question his reply was either yes or no. Almost for an hour. #AskBBCKomla
Question from @boakyeofcitifm: How big was the difference in quality when you left Ghana to go to the BBC? How did you meet the standard? #AskBBCKomla
Komla answers: If my journalism wasn't up to BBC standard I wouldn't have been hired. Biggest challenge was the technology. #AskBBCKomla
Question from @AaronSikombe: What is your take on aid to Africa? #AskBBCKomla
Komla answers: Aid has its role but in the long run no one makes progress through handouts unless the aid leads to better choices #AskBBCKomla
Question from @MawuliTsikata: What's your view on Mentorship for leadership especially for the African Continent? Are you mentoring anyone? #AskBBCKomla
Komla answers: I think mentoring is v important. I mentor through forums like this and several others especially working with young Africans #AskBBCKomla
Question from @kofigameli. Will you ever come back & work at a Ghanaian radio station again? #AskBBCKomla
Komla answers: Yes very soon. I hope to make regular trips to help train and assist aspiring presenters across Ghana! #AskBBCKomla
Question from @THEREALKIWI1: What's your inspiration and motivation? #AskBBCKomla
Komla answers: For work-my audiences-my peers-my managers-drive my desire to give my best-personally-my parents, my children #AskBBCKomla
Question from @Kingsam_Soyinka: Which event did you cover in Africa that you wish to cover again and again? #AskBBCKomla
Komla answers: The magic of SA 2010 will not be repeated but there's no shortage of amazing powerful and compelling stories out of Africa #AskBBCKomla
Question from @FrankRwamugabo: One interviewee on #African continent you enjoyed interviewing? One you want to interview b4 you retire? #AskBBCKomla
Komla answers: Enjoyed most Mo Ibrahim, Paul Kagame, Kofi Annan, Desmond Tutu. Most desired Winnie Mandela, Robert Mugabe, Dos Santos #AskBBCKomla
You can follow Komla on Twitter: https://twitter.com/BBCkomladumor
Twitter Q&A produced by Jeremy Gahagan