Flight MH370: Your questions for Richard Westcott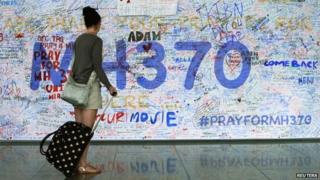 Malaysian Airlines flight MH370 from Kuala Lumpur has been missing since the 8 March. Do you have a question about flight MH370?
BBC transport correspondent Richard Westcott will be answering a selection of your questions in a live Twitter Q&A between 13:30 GMT and 14:30 GMT.
He will be joined by Balpa (British Airline Pilots Association) pilot Piers Applegarth.
Richard and Piers will try to answer as many of your questions as they can, but they might not be able to answer them all in the time allowed. Questions will be tweeted immediately before the answer, and might therefore be edited for brevity.
Here are the ways you can take part:
On Twitter, tweet your question to @BBCwestcott using the hashtag #AskBBCRichard
Text your question, beginning '#AskBBCRichard' to 61124 (in the UK) or +44 7624 800 100 (outside the UK)
You can email your question to Haveyoursay@bbc.co.uk
This Twitter Q&A has now ended and a transcript is available here.