Royal Navy withdraws HMS Tireless from search for MH370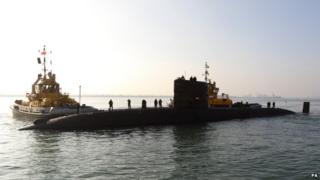 The Royal Navy is withdrawing its HMS Tireless submarine from the search for missing flight MH370.
HMS Tireless, working alongside HMS Echo, used specialist sonar equipment to try to locate the plane's black box.
But it was stood down after the Australian command announced there was "no prospect" of detecting further "pings" from the box.
HMS Echo is currently heading to port in western Australia to replenish supplies.
Malaysian Airlines flight MH370 went missing on 8 March while travelling from Kuala Lumpur to Beijing. A total of 239 passengers were on board.
Commanding officer of HMS Tireless, Commander R Hywel Griffiths, said the task had been "challenging."
"Overcoming some of the most inhospitable sea conditions ever experienced by my crew, we searched 7,000 square nautical miles in a 16-day period," he said.
"I am also very proud of the professionalism and enthusiasm of my ship's company. My highly trained and experienced young team of sonar operators were key to this operation, supported by the steadfast commitment of the remainder of my team, some in their very first months at sea."
The only submarine involved in the search operation, HMS Tireless searched 7,000 sq nautical miles in 16 days.
A Trafalgar-class submarine, it has been away from its base in Plymouth, south-west England, for three and a half months.
The vessel worked in tandem with HMS Echo after sensors from one of the Chinese ships assisting in the search picked up a possible signal in the southern Indian Ocean at the start of April.
HMS Tireless and HMS Echo used specialist equipment to scan the seabed in search of the black box, which was hoped could reveal what happened to the missing Malaysian Airlines plane.
A statement from the Australian search co-ordination centre said the search of the six-mile (10km) area near the site of the reported pings was due to be completed within days.
The US Navy's underwater drone Bluefin 21 will now build a 3D sonar map of the ocean floor in the hope of locating the plane.