Suspicion, scepticism greet Obama speech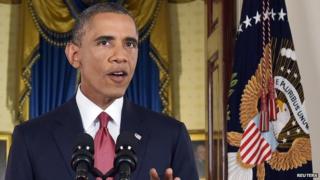 Middle Eastern commentators have reacted to US President Barack Obama's new strategy for dealing with the Islamic State (IS) militants with opinions ranging from praise to suspicion and scepticism.
Iraqi pro-government TV reported in positive tones on Mr Obama's speech, in which he said the US will lead a broad coalition against IS militants, who have seized large swathes of Iraqi and Syrian territory. Syrian TV criticised the strategy for excluding Damascus from the coalition.
Newspaper commentators wondered who will be pressured into providing ground forces, while others suggested Mr Obama has underestimated the task that lies ahead.
Here is a flavour of the reactions in some of the region's media:
Syrian state TV
Obama's strategy against the Islamic State exposes Washington's lack of seriousness regarding combating terrorism, as it fights against only one group while arming others.
Iraqi Al-Iraqiyah TV
US President Barack Obama said that IS gangs constitute a terrorist organization that has no vision other than killing whoever stands in its way with unprecedented violence.
Seyyed Reza Akrami in Iran's Mardom Salari
Iran has become the flag bearer for the fight against terrorism… Obama is explicitly saying that Daesh (the Islamic State) - not Iran - is a threat for the region.
Ahmad Kazemzadeh in Iran's Javan
The new Western coalition has been created to allow members to achieve their own goals:… expanding Nato's borders into new areas like the Gulf and the Indian subcontinent,… overthrowing the Syrian government and challenging Russia.
Editorial in Palestinian newspaper Al-Quds
The military confrontation with the Islamic State will only escalate the problem, and ultimately no-one will be able to resolve it.
Ala-al-Din Abu Zyna in Jordan's Al-Ghad daily
Obama repeated what former US President George W Bush did 13 years ago… talking of the war between the civilized West and the backward Islam… They should leave us alone.
Editorial in London-based Al-Quds Al-Arabi
The world held its breath yesterday evening... as it listened to US President Barack Obama announce his strategy to "weaken and destroy Daesh (IS)". It won't be easy.
Fayiz Sarah in Saudi-owned Al-Sharq al-Awsat
For the war on terrorism and extremism which is represented by Daesh to succeed, it should include the regime of [Syrian President Bashar] al-Assad.
Orly Azoulay in Israel's Yediot Aharonot
The war that will be attributed to him [Obama] is a war against evil, cruelty, and extremism, and intended to react to the Islamic State which spat in the face of the American nation by executing some of its citizens.
Ibrahim Karagul in Turkey's Yeni Safak
We know that those who say no operation against IS can succeed without Turkey actually mean Turkish ground forces.
Ibrahim Kiras in Turkey's Star
One shouldn't forget that the USA, by hitting the IS, will anger the Sunni Arabs.
BBC Monitoring reports and analyses news from TV, radio, web and print media around the world. For more reports from BBC Monitoring, click here. You can follow BBC Monitoring on Twitter and Facebook