Ebola questions: Ask BBC's Umaru Fofana in Sierra Leone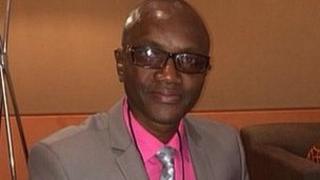 The BBC's correspondent in Freetown, Umaru Fofana hosted a live Twitter Q&A on how the Ebola outbreak has affected life in Sierra Leone.
He answered your queries be it about what the authorities are doing to fight the virus, how people are coping or whether the message about the dangers of the disease is getting across.
According to the latest UN figures, close to 3,500 people have died of Ebola in Guinea, Liberia and Sierra Leone, with 7,470 confirmed cases to date.
The live Twitter Q&A took place on Wednesday 8 October between 10:00 GMT and 11:00 GMT and Umaru answered your questions directly via his Twitter account: https://twitter.com/UmaruFofana
Here are the ways people took part:
Tweet your question to @UmaruFofana using the hashtag #AskBBCUmaru
Text your question, beginning '#AskBBCUmaru' to +44 7786 205075 (outside the UK)
Email your question to

haveyoursay@bbc.co.uk
***THE TWITTER Q&A HAS ENDED***
Click here for the edited version of the session.