Panama papers: France firm owner denies funnelling money offshore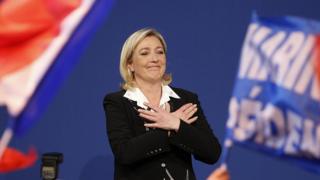 A French businessman named in leaked files from a Panama law firm has denied deliberately funnelling money offshore.
Frederic Chatillon, whose company Riwal ran communications for the far right Front National (FN) party's election campaigns in 2012, said all his transactions were legitimate.
About €316,000 ($360,000; £250,000) was moved from Riwal in 2012 through Hong Kong, Singapore, the British Virgin Islands and Panama, Le Monde reported.
The FN says it was not involved.
The party "will not tolerate outrageous associations that are made", it said.
Panama Papers reaction - latest
The BBC and French newspaper Le Monde are among more than 100 media partners chosen to analyse parts of 11m files from the secretive Panamanian law firm Mossack Fonseca that were leaked and released on Monday.
Le Monde said the aim of transferring the money from Riwal was to "get money out of France, through shell companies and false invoices".
A former FN official was also named in the leaked files in connection with the transfer from Riwal, Le Monde reported.
Mr Chatillon told French media (in French) that he and his shareholders had decided to invest in Hong Kong "because Asia offered the most attractive profitability prospect".
But Mr Chatillon said any subsequent decision to send money on to shell accounts in Panama managed by Mossack Fonseca was made without his knowledge.
"Clearly, this private matter has nothing to do with the Front National," he added.
Mossack Fonseca says it has operated beyond reproach for 40 years and has never been charged with criminal wrong-doing.
In other global reaction:
Icelandic Prime Minister Sigmundur Gunnlaugsson resigned over allegations he concealed investments in an offshore company
The UK government should consider imposing "direct rule" on its overseas territories and dependencies if they do not comply with UK tax law, says opposition leader Jeremy Corbyn
China's foreign ministry said claims close relatives of seven current or former leaders have been found to have links to offshore firms were "groundless"
Ukraine's fiscal service says it will look into all documents in the leak relating to President Petro Poroshenko
The US Department of Justice is reviewing the leaked documents to look for evidence of corruption that could be prosecuted in the US, the Wall Street Journal reports
---
Panama Papers - tax havens of the rich and powerful exposed
Eleven million documents held by the Panama-based law firm Mossack Fonseca have been passed to German newspaper Sueddeutsche Zeitung, which then shared them with the International Consortium of Investigative Journalists. BBC Panorama and UK newspaper The Guardian are among 107 media organisations in 76 countries which have been analysing the documents. The BBC does not know the identity of the source.
They show how the company has helped clients launder money, dodge sanctions and evade tax
Mossack Fonseca says it has operated beyond reproach for 40 years and never been accused or charged with criminal wrong-doing
Tricks of the trade: How assets are hidden and taxes evaded
Panama Papers: Full coverage; follow reaction on Twitter using #PanamaPapers; in the BBC News app, follow the tag "Panama Papers"
Watch Panorama on the BBC iPlayer (UK viewers only)