Where is the remotest part of the world you've been?
A prison camp in far-flung China, a monastery in Myanmar, the blistering hot Australian desert. None of them are everyday places but they are among the more remote global destinations on some of your travel itineraries.
People were inspired to share their stories after a pair of scientists from Florida, and their eight-year-old daughter, searched for the remotest spot in every US state.
A monastery in Myanmar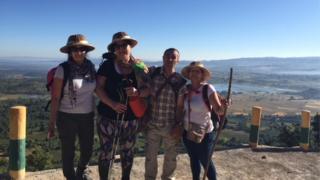 "I took this three days ago, at about 3pm near Nzakyi in Shan State, Myanmar," says Juliet Allaway.
"We were hiking to a monastery to spend the night. We are all in our 50s and 60s and it was a killer!
"The local people were all friendly and fascinated by me because I am a bit 'plump' and I was wearing loud Lycra leggings. It took about eight hours to get there.
"We slept on the floor under blankets and the night was endless with people snoring and thrashing about.
"Hasta ahora!"
A Wintery farm in China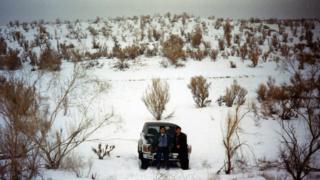 "This is a picture of Fubei Bingtuan in the Taklamakan Desert in China's far west Xinjiang Provence," says Colin Hill. "I was sent there in 1994.
"It is a 10km-square state farm run by The Peoples Liberation Army/Peoples Armed Police.
"It is part-prison, part-army camp, part-commercial farm.
"The winter temperatures are extreme, being permanently below freezing from November to March, with -20C not being uncommon. The summer temperature can reach 40C for weeks at a time.
"Few westerners will ever get to see the inside of a Bingtuan. I am one of the few."
A desert in Australia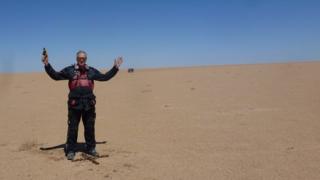 John Abell said he and his friends' "3,000km return trip" to be the first people to record their visit to a 'confluence point' nobody had visited before.
Confluence points are the positions on the globe where whole-number longtitude and latitude coordinates intersect.
"There is only a fixed number of the points," said John. "'Bagging' one is an increasingly difficult task as most of the easily-reached points are already gone.
"We were in south-east Queensland, about 140km north of the remote town of Birdsville, on the largest dry claypan in Australia.
"We rode motorcycles 1,500km from near Adelaide in South Australia to find this confluence point.
"Like reaching the North or South Pole, you can only be the first once - and my name is on S25 E140."
Everywhere else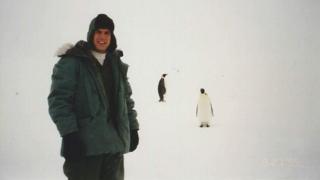 Thomas Delio says he took this photo in September 1995 near the Erebus Ice Tongue, which can be found in Ross Island, Antarctica. He was in the U.S. Navy working at McMurdo Station when he stopped to take this photo with two emperor penguins on the way to the glacier tongue.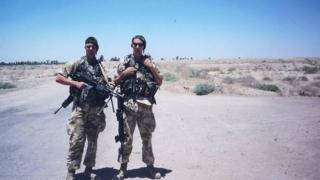 This photo was sent by Matthew G Okuhara, who is stood on the right with Private 'Stick' Williams in May 2004. He was on a British Army patrol east of Basra, near the Iranian border. The patrol was conducted by army reservists from the South West, UK.
.