The news that made us smile this week
Everyone needs a distraction now and then - so here are some of the things that put a little smile on our faces this week.
We hope they do the same to you.
1) This adventurous kid
Spare a thought for Dato Nozadze.
He sneaked out of his home in Georgia, with the aim of visiting the zoo. Somehow, he travelled 130km (80 miles) on a train to the capital Tbilisi by himself.
Just one problem: the zoo was shut.
Luckily though, the zoo decided to hand him a free one-year pass to go back. And he already has:
You can read more about Dato's trip here.
2) These deer
The heavy snow across the UK was a pain to some, but a source of joy to others, like these deer in Dunkeld, in central Scotland.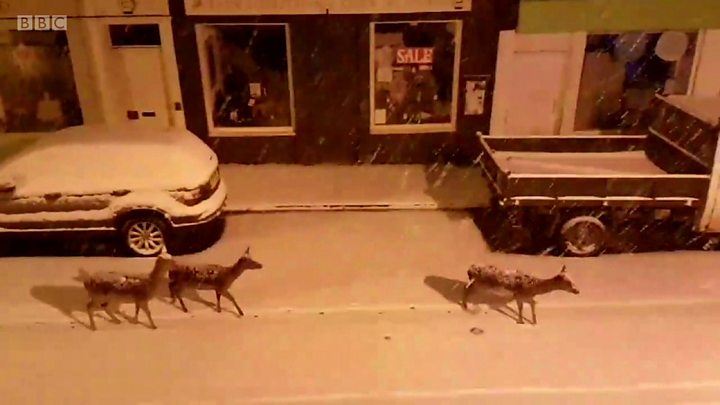 Click here if you want to see how other animals braved the so-called "beast from the east".
3) This toe-curling video
OK, maybe this didn't make us smile, but instead made us wince in pain a bit.
It's an...interpretation (what's the kind word here?) of the theme from The Fresh Prince of Bel-Air made by members of Utah's house of representatives.
It's special.
4) These very good dogs
As students returned to Marjory Stoneman Douglas high school in Florida two weeks after a deadly shooting, they were met by these comfort dogs:
The dogs, including Cubby, Jacob and Abner, all belong to the Comfort Dogs for Lutheran Church Charities - they regularly fly to the scenes of disasters, as well as hospitals and schools, to provide comfort.
5) This modern-day LS Lowry painting
This snowy scene was captured was taken by Press Association's Owen Humphreys in Whitley Bay, North Tyneside, in the north of England. Does it remind you of anything?
6) This very colourful photo
It was taken by Reuters' Rupak De Chowdhuri in Kolkata - it shows a devotee taking a rest during Holi, the Hindu spring festival also known as the festival of colours.
7) This cheeky apology
It's a bit embarrassing when you're a fast-food restaurant known only for your fried chicken, and you run out of chicken.
But KFC managed to regain some credit with its apology, put in a full-page advert in UK newspapers.
You can read more here about the reaction to the apology, and if you want to catch up with what cheered us up last week, here you go.