South Africa ex-police chief Jackie Selebi to appeal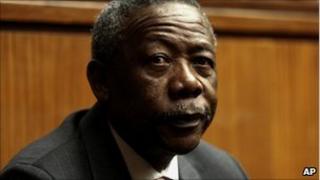 A South African judge has ruled that former national police commissioner Jackie Selebi can appeal against his conviction for taking bribes from a drug dealer.
Selebi, a former Interpol president, was sentenced to 15 years in prison.
Convicted dealer Glenn Agliotti paid Selebi 1.2m rand ($156,000; £103,000) to turn a blind eye to his business.
Selebi was a senior member of South Africa's ruling party, the ANC, and an ally of former President Thabo Mbeki.
He is the most senior official appointed by the country's government to have been convicted of corruption but remains free on bail while the appeal is heard.
High Court Judge Meyer Joffe said Selebi could appeal "on the issue of whether the State proved beyond a reasonable doubt that the accused received payment".
He rejected the other defence arguments against the conviction.
When he sentenced Selebi in August, Judge Joffe described him as "an embarrassment" and a "stranger to the truth" in the witness box.
"At no stage during the trial did the accused display any indication of remorse. The accused lied and fabricated evidence in an effort to escape the consequences of his conduct," the judge said.
During the trial the court heard how Selebi had spent thousands of dollars on shopping sprees with the money he was given by Agliotti.
Agliotti, who gave evidence against Selebi in return for immunity on bribery charges, is himself on trial for murdering a mining tycoon.