Guinea electoral chief taken to court ahead of run-off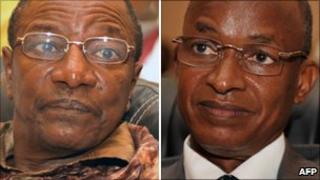 The party of one of Guinea's presidential candidates has taken the new electoral chief to court, accusing him of rigging the first round.
But Lonceni Camara, who was appointed last month, denies the allegations by Cellou Dalein Diallo's party, saying he did nothing wrong in June's vote.
The case has been adjourned until two days before the run-off on 24 October.
The election is intended to end the political crisis which began when soldiers seized power in December 2008.
A former prime minister, Mr Diallo is seen as the favourite in the run-off after gaining 44% of the vote in the first round.
His rival, veteran opposition leader Alpha Conde, won 18%, but says he was defrauded of some 600,000 votes.
Candles needed
The BBC's Alhassan Sillah says the dimly lit high court was packed with onlookers as Mr Camara, dressed in a traditional African outfit, entered the dock flanked by his defence lawyers.
Court officials had to light candles so the judge could see his papers to read out the charges as there was no electricity, he says.
Shortly afterwards, the judge adjourned the case, casting doubt on whether the run-off vote would be held as planned.
The second round has been delayed twice, once in July because of investigations into electoral fraud and again in September because of clashes between rival supporters.
The initial fraud allegation plunged the electoral commission into chaos as its head, Ben Sekou Sylla, was convicted of defrauding Mr Conde of votes. Mr Sylla later died after a long illness.
The appointment of Mr Camara as his replacement last month has been controversial, our reporter says.
He has faced a barrage of criticism from Mr Diallo's party, including allegations that he supports Mr Conde.
In its legal action, the UFDG party is alleging that Mr Camara stole envelopes containing their supporters' votes in the Ratoma district of Conakry.
The party says these votes may have given Mr Diallo an outright victory during the first round of the poll.
"I can tell you that throughout the trips I made to that area, all the documents that I received, whether it was one, 100 or 200, I made sure we took them to the main assembly hall of the headquarters of the electoral commission," Mr Camara said ahead of the court case.
The first round was seen as Guinea's first democratic vote since independence in 1958, raising hopes of an end to military and authoritarian rule in the mineral-rich country.
Guinea is the world's largest exporter of the aluminium ore bauxite. It also has important deposits of iron ore, but it remains one of the poorest countries in West Africa.