South Africa drug dealer Agliotti freed in murder case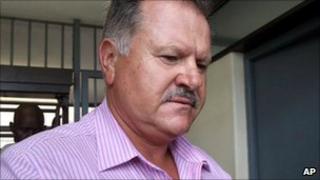 A convicted drug smuggler in South Africa has been acquitted of the murder of a mining tycoon.
Glenn Agliotti was charged with planning Brett Kebble's murder in 2005.
At the time Agliotti was a close friend of ex-police chief Jackie Selebi, who he testified against in a corruption trial. Selebi, also a former Interpol president, was jailed for 15 years.
This is a shocking twist in a saga that has captivated South Africans for five years, says the BBC's Pumza Fihlani.
Judge Frans Kgomo said the state had failed to prove the charges against Agliotti.
"It appears to me as if the state was placing booby traps along the way," he said, reports South Africa's Eye Witness News.
South Africa's police and the National Prosecuting Authority (NPA) have in the past faced criticism for their handling of the case.
During Selebi's trial, Agliotti testified that he had paid the ex-police chief 1.2m rand ($157,000; £98,000) in return for information about police operations.
He also said he had bought Selebi's wife a red patent leather Louis Vuitton handbag worth 10,000 rand ($1,400; £900).