Wikileaks shows US doubts about Zimbabwe's Tsvangirai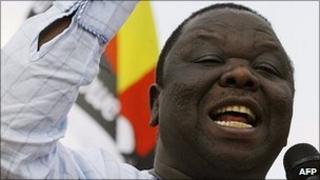 The former US ambassador to Zimbabwe thought then opposition leader, now Prime Minister, Morgan Tsvangirai was a "flawed figure", according to a diplomatic cable released by Wikileaks.
Christopher Dell said Mr Tsvangirai was a brave man, largely a democrat but not open to advice and indecisive.
Mr Dell described President Robert Mugabe as ruthless but a "brilliant tactician".
As he left in 2007, he predicted: "The end is nigh" for the Mugabe regime.
He did, however, admit that similar predictions had previously been made by several of his predecessors and other observers.
Mr Tsvangirai defeated Mr Mugabe in the first round of the 2008 presidential election but pulled out of the run-off following a wave of violence against his supporters.
The long-time rivals then agreed to share power in 2009.
The US, like other Western powers have imposed targeted sanctions on Mr Mugabe and scores of his allies, accusing him of rigging elections and other human rights abuses.
But Mr Dell, who was once told by Mr Mugabe he could "go to hell", said Mr Tsvangirai had "questionable judgement in selecting those around him", according to a leak reported in the New York Times.
"He is the indispensable element for opposition success, but possibly an albatross around their necks once in power. In short, he is a kind of Lech Walesa character: Zimbabwe needs him, but should not rely on his executive abilities to lead the country's recovery," he wrote as his posting to Harare ended, according to the leak to the Wikileaks website.
On Mr Mugabe, the former US envoy wrote: "To give the devil his due, he is a brilliant tactician.
"However, he is fundamentally hampered by several factors: his ego and belief in his own infallibility; his obsessive focus on the past as a justification for everything in the present and future; his deep ignorance on economic issues (coupled with the belief that his 18 doctorates give him the authority to suspend the laws of economics, including supply and demand); and his essentially short-term, tactical style."
He also said the US should try to avoid a government of national unity - which has since been set up - as this would "perpetuates the status quo at the expense of real change and reform".
The power-sharing government has stabilised Zimbabwe's economy but relations between Mr Mugabe and Mr Tsvangirai have deteriorated recently and new elections may be called in 2011.
Mr Dell's cable is one of 251,287 Wikileaks say it has received, sparking strong condemnation from the US.
No-one has been charged with passing the diplomatic files to Wikileaks, but suspicion has fallen on US Army private Bradley Manning, an intelligence analyst arrested in Iraq in June and charged over an earlier leak of classified US documents to Julian Assignee's organisation.
The cables' release was the third mass Wikileaks release of classified documents since it published 77,000 secret US files on the Afghan conflict in July, and 400,000 documents about the Iraq war in October.
Wikileaks argues the release of the documents has shed light on the wars, including allegations of torture and reports that suggest 15,000 additional civilian deaths in Iraq.