South Sudan welcomes Bashir reassurance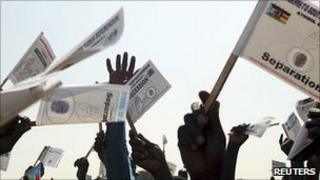 South Sudan's information minister has welcomed reassurances by the Sudanese president that he will respect Sunday's referendum on southern independence.
Dr Barnaba Marial Benjamin told the BBC he was pleased President Omar al-Bashir had accepted the referendum.
He said the vote will allow the people of South Sudan to decide their own future for the first time since 1898.
On his final visit to the south before the referendum, Mr Bashir said that he would be sad to see Sudan split in two.
But he added he would be happy if that brought "real peace" to both sides.
Analysts said President Bashir's remarks reflect a growing realisation by the Sudanese government that it cannot prevent the week-long referendum.
The vote is part of a 2005 deal that ended a two-decades-long war.
"We are pleased at the end of the day, despite difficulties and challenges, President Bashir had to realise that this agreement is not just between the Sudanese alone but it involves the whole international community," said Dr Benjamin.
"The biggest challenge was whether we would finish the registration of voters, a thing which we have successfully done now. We have registered something like 3,900,000."
He added: "The people of South Sudan, for the first time since 1898, are going to determine their own future.
"In fact, it will be the last-born state on this continent of Africa. For one to be a part of that, it is a great historical event in one's life."
'Sad and happy'
US Senator John Kerry, who is visiting Sudan, told the BBC he was also encouraged by Mr Bashir's remarks he hoped the voting process would be completed without any violence.
He reiterated that President Barack Obama would consider lifting sanctions against the government in Khartoum after the referendum.
But only once critical issues, including fixing the border between north and south Sudan were resolved.
"The president has been very explicit that that possibility is on the table providing that the agreements that are necessary are reached over the course of the post-referendum process," he told the BBC's Newshour programme.
Sudan was brought under joint British-Egyptian rule in 1899.
Earlier, speaking in the southern capital Juba, Mr Bashir said: "I personally will be sad if Sudan splits. But at the same time I will be happy if we have peace in Sudan between the two sides."
He added: "Anything you need in terms of technical, logistical or professional support from Khartoum, you will find us ready to give it. The benefit we get from unity, we can also get from two separate states."
Southern Sudan has been marginalised by a succession of governments in Khartoum, from colonial times onwards.
The north and south are also divided by culture, religion, ethnicity and a history of conflict, correspondents say.
For the vote to be considered valid, 60% of voters must take part.
BBC website readers in Sudan have been writing in with their comments. Here is a selection.
I am glad that I am going to be part of Sudan history and African history as a whole. The map of Africa will have to be redrawn. We Southern Sudanese have suffered a lot under the Arab regime. We have to be on our own. Even if Southern Sudan turns out to be a new Animal Farm, I will still be glad because we decided to turn it into Animal Farm. We will not blame anyone for any future events because we chose to be who we are. I feel sad that my country will not longer be the largest country in Africa. But I am happy that there is going to be peace, freedom of expression, democracy, respect for human rights and above all development. Peter Abishai, Yambio
I am a Sudanese from South Sudan. I am waiting for my freedom on 9 July because all of us are going to vote for separation. By all means we are praying day and night for the total freedom. We don't want to be slaves again. I am asking the international bodies to observe the conduct of the referendum in all parts of the polling stations because we don't want the Arabs to steal the results. Mboriundoko Kumba, Juba, Sudan
The idea of secession seemed absurd in 2005 when the CPA was signed. John Garang was alive and we were excited about the "New Sudan", but then Garang died and unity was buried with him. The riots after his death were a wake-up call. We realised that Sudan is extremely divided and it will take more than six years to make unity attractive. As a Northern, I understand the extent of suffering inflicted upon the people of Southern Sudan, but I still believe we can co-exist in one country. If secession ushers an era of peace for the south and for the north, then it is the right choice. Reem, Khartoum, Sudan
I am a Sudanese by nationality, I am going to vote fully for separation. I have seen many things since the creation of Sudan. The north think that they are the best. They don't count the south as being part of humankind, even our faith, christianity, is ignored as if it is not a religion. Unity could have been the best option if they could have respected our dignity. Samson Ogalla Alang, Juba, Southern Sudan
I'm in Juba and I will vote. Southern Sudan must separate from the north, there is no way out. You can imagine the joy we are feeling now, and even the spirits of the dead have started to celebrate the independence of the newest state in the world. Without independence in Southern Sudan we will fight up to the last drop of our blood and the northerners will rule our spirits, not any Southern Sudanese while still alive, and our spirits will remain fighting them even if we are all dead. Justin Wani Kwoji, Juba, Southern Sudan
I call on the President Bashir and President Kirr to provide security in this referendum. Peace is what we need both south and north. Osama Khamis Abusala, Kadugil Sudan
I came all the way from the United States to vote in this historic referendum. I will vote for separation come January 9 to honour the souls of 2.5 million Southern Sudanese who lost their lives during our struggle. When the votes will finally be counted, I am sure the outcome will be that HE Gen Mayardiit and HE Dr Machar will be the President and Vice-President, Hon James Wani and Hon Daniel Awet will be the Speaker and Deputy Speaker, the SPLA will be the National Army of the Republic of South Sudan (including Abyei) in a quick order. Goihoa Biliu Pual, Juba, Sudan
I congratulate H E Bashir for all those comments and he will remain in the history of South Sudan for having accepted the deal after more than two million people died in the civil war. I will vote for the cause for an independent South Sudan. South Sudan has already split, all that remains to be done is the date of inking the paper pronouncement. Papa Sallah Banja, Juba, South Sudan
Splitting Sudan is the best option for the majority of us southerners. It can also be a self-searching experience for the northern politicians who have been in power or are still in power. How did they contribute in reinforcing this choice? Will they change their ways so that the Darfuris, the Eastern Sudanese, the Nuba and the Southern Blue Nile could not ask for the same? Emmanuel Gonda, Juba, Sudan