Niger delta election: Massive security in Nigeria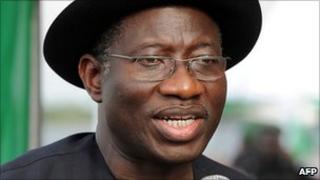 More than 20,000 Nigerian police have been deployed to the oil-rich Niger Delta, where elections for a state governor are being held.
The result of the last election, in 2007, has been annulled because of voting irregularities.
Last week, there were bomb attacks on political rallies in Delta State.
The president of Nigeria, Goodluck Jonathan, has campaigned on behalf of Emanuel Uduaghan, who was governor until the annulment.
Correspondents say the election will test the president's support in a key state, ahead of general elections in April.
Delta state is re-running the election after an appeals court overturned Mr Uduaghan's election in November.
Police, riot police and military bomb disposal units have been deployed to ensure the security of the polls.
"It is the largest contingent ever deployed for a state election," Delta State police spokesman, Charles Muka told the AFP news agency.
President Goodluck Jonathan, who is from the Niger Delta, on Tuesday flew from Abuja to the state to support the campaign of Mr Uduaghan, who is from the ruling People's Democratic Party.