A song for south Sudan: Writing a new national anthem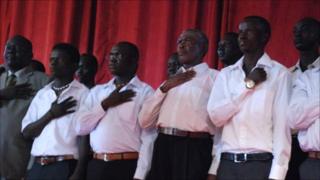 With hands on hearts, south Sudanese singers practise a song for their homeland.
If the south chooses independence in the on-going, week-long referendum, it will be the new national anthem for potentially the world's youngest country.
Students from Juba University in the southern capital were selected after a Sudanese-style X Factor talent show for musicians in front of cheering crowds.
"It started with the idea that at this moment in history, it was very important to start building a national anthem," said Joseph Abuk, chairman of the technical committee tasked with writing the anthem.
"We want to be ready for when we become a free nation."
Excitement is building in the south at the prospect of independence from former civil war enemies in the north.
In a baking hot concert hall in the steamy southern Sudanese capital, singer after singer took to the stage to perform their attempt at a new tune for their homeland.
The packed hall went wild at the end of each song, with people leaping to their feet and waving their hands in support.
Musicians were keen to make a change from the military-style march of Sudan's current national anthem.
The winner, from students and teachers at Juba University, wrote a softer, lighter tune - although critics say it struggles at times to squeeze the lyrics into the music.
But some misread the instructions and tried to fit the lyrics to current pop love songs.
A row of judges rated each tune - rapidly sending out those who came to sing "inappropriate" songs rather than more sombre national lyrics.
The crowd loved it all.
Independence struggle
But this was not light-hearted entertainment: There were tears in people's eyes, and the lyrics remembered those who died in the struggle for the south to be able to choose its own future.
Some two million people died and four million were forced from their homes during the south's war with the north.
"The national anthem for me means I declare for everybody that I am free," said Mido Samuel, one of the composers of the winning tune, South Sudan Oyee! (Hooray!).
"We declare that we are independent now, we are a country."
The lyrics were written by a collective of 49 poets, who gathered together last year to write the verses, following guidelines set down by the government and army.
"The anthem had to have something about the south's history, its people, the land, its resources - and about the struggle that went on for 21 years," added Mr Abuk.
Then the organisers called on musicians to write a tune, holding three rounds of a music competition.
"Oh black warriors, let's stand up in silence and respect, saluting millions of martyrs whose blood cemented our national foundation," the anthem runs.
But it also offers a better, more optimistic vision for the future.
The south was left in ruins by decades of bitter civil war with the north, and people are hoping that by creating a separate southern nation, they will be allowed to live in peace.
"Sing songs of freedom with joy, for peace, liberty, and justice shall forever more reign," the lyrics run.
The song also calls the south the Land of Cush, a biblical reference to an ancient kingdom in the region.
"People were falling over or crying - this was quite an emotional moment," said Mr Abuk.
"You know if you have helped in the making of a thing that can bring tears, then I've done something that seems to be very meaningful to the people."
Having chosen the anthem, the new country's next step will be to decide on its name.
Lyrics of the new anthem, South Sudan Oyee!:
Oh God!
We praise and glorify you
For your grace upon Cush,
The land of great warriors
And origin of world's civilization.
Oh Cush!
Arise, shine, raise your flag with the guiding star
And sing songs of freedom with joy,
For peace, liberty and justice
Shall forever more reign.
So Lord bless South Sudan!
Oh black warriors!
Let's stand up in silence and respect,
Saluting millions of martyrs whose
Blood cemented our national foundation.
We vow to protect our nation.
Oh Eden!
Land of milk and honey and hard-working people,
Uphold us united in peace and harmony.
The Nile, valleys, forests and mountains
Shall be our sources of joy and pride.
So Lord bless South Sudan!