Nigeria's 'cash and carry' politics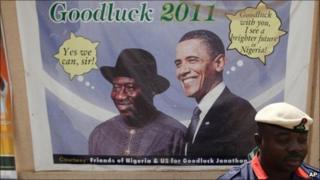 In the language of Nigerian negotiation, the matter of who ruling People's Democratic Party delegates chose as their presidential candidate for April's election is "settled".
Cash has been dispensed; favours and gifts have been granted; and political support given in return.
Thousands of smiling PDP members - their wallets swollen with booty - are packing up to leave the jamboree in the capital, Abuja, that commentators call "the cash and carry" primary.
"Goodluck Jonathan and Vice-President Nnamadi Sambo will never, never, never let you down," the delighted winner told crowds of his supporters at the party primaries in the early hours of Friday morning.
Historic
After sweltering nights of deal-making, President Goodluck Jonathan's victorious showing - with 78% of the available votes cast for him - is no surprise.
The win is historic, though: It tears up the north-south pact within the governing party - disrupting the old rhythms of power.
Mr Jonathan is now secured as the man most likely to win the presidency next year.
But after a bruising campaign in which ethnic and regional differences have been laid bare, it leaves his party bereft of the old certainties.
It also leaves his main rival, Atiku Abubakar, with a very big hole in his pocket.
What the former vice-president will do next remains a key question.
Mr Abubakar's slogan in Nigeria's north - "Naka Sai Naka!" (Go For Your Own!) - still has potency amongst northerners wary of Mr Jonathan, who hails from the southern oil-producing Niger Delta.
"Atiku is a desperado now. This was his last-chance saloon," says one long-time political commentator.
Another commentator observes: "He won't take this lying down."
"Mr Abubakar is considering his options in confidence with his closest supporters," Garba Shehu, his media adviser, told the BBC.
"He has plenty of steam left. Now is not the time to write him off."
The former vice-president could now resign from the PDP, and cross the floor like he did for the 2007 election when he ran as the Action Congress's presidential candidate.
Or he could team up with another northern candidate - perhaps former military ruler Gen Muhammadu Buhari - throwing his muscle and money behind him.
'PDP diminished'
Meanwhile Nigerians are still struggling to absorb the PDP's decision to endorse Mr Jonathan.
The muscle of the PDP is awesome. It has won every vote in Nigeria since the end of military rule - in poll after poll condemned for bribery and vote rigging.
Now the gentlemen's agreement that has kept the party's elites united and in office is over - leaving political questions hanging.
"It means the power of the PDP itself is diminished from what it was," says one insider.
"That has to be a good thing."
Others disagree, fearful of the ethnic and regional rifts within the party - and the country - that are left exposed.
Celebrations for Mr Jonathan's win are muted in many quarters as Nigerians ponder the coming election season and the threat of thuggery and political violence it brings.
"How can we be so bereft of choices?" demands one writer to a popular message board.
"If we have to use these past months as a measuring rod, then Nigeria is in for yet another night of wolves."