Tunisia unrest: Views from the country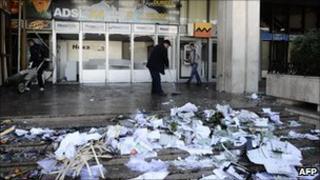 Security has been stepped up in the centre of the Tunisian capital, a day after President Zine al-Abidine Ben Ali was forced from power by street protests.
Hundreds of troops are patrolling Tunis and a state of emergency is in force. Interim leader Mohammed Ghannouchi has said he would hold talks with opposition groups to try to form a unity government.
Here, Tunis residents describe a tense atmosphere on the streets of the city.
Tunisians react as president steps down
Reaction to violence in Tunisia and Algeria
Afef Abrougui, protester, Tunis
The neighbourhood where I live hasn't had serious acts of violence. I know that in other places the situation is truly horrible with widespread looting and damaging of properties.
There are rumours that certain gangs that are connected to the RCD (Ben Ali's party) are responsible for these attacks. Everyone here believes that.
I was among the protesters yesterday in front of the interior ministry. I was there for three hours and nothing of that sort happened. The young protesters are not criminals, they wouldn't do that.
We don't want the western world to see that now the president is gone, we can't handle things here.
There is a different kind of spirit among ordinary people. I saw a video on Facebook of young people cleaning up a street. I am shocked, how can these people do this to their country.
Our security is now the responsibility of the army. We trust the army, the have never turned on the protesters.
The president stepping down is a huge thing. I am 20 years old and he is the only president I've known. And it all happened completely unexpectedly.
The protests started with demands for more jobs. But things changed so quickly. Now we want freedom, we want to be able to assemble, to elect our government and I strongly believe that after this, Tunisian's won't accept a government that doesn't represent them.
I am hopeful about the future. Tunisians have acquired political awareness and there's no going back
Hamdi Kriaa, protester, Tunis
We are living through special days, historical days. We are moving towards a new chapter for Tunisia, towards freedom and democracy.
Yesterday I was protesting in front of the interior ministry together with some 10,000 people. The sensation was incredible.
I thank God that I lived this moment, because we never thought we could have this situation - us protesting for freedom.
We are very proud to be Tunisian because we demonstrated to the whole world that we want to live in freedom.
We were oppressed and silent, but we are no longer silent and every next president will know that if they are not supported by their people, they'll be fired. The message is clear.
There was some confrontation with the police, but we expected it. But the military is with us, that's the important thing.
Our priority right now is security. The situation is critical. There are people who are not accepting the change, people who belong to the past. They are destroying banks, offices, cars.
They can't accept the change. They used to have a lot of power and they know that they are not going to find a position in the next government.
I am an optimist and I think that in the next few days we will have security. The current president is meeting with political parties and is trying to form a new government.
And I am confident we'll start preparing for the presidential election in a democratic environment.
Zouhair Ben Jemaa, retired consultant, Tunis
We couldn't sleep all night. We hear everything, the helicopters, the gunfire.
We can go out now and I just made a small tour in our neighbourhood. We live close to the US embassy, so we have a good security free of charge.
It's quiet now. There are a few people out and about, but the troubles will probably start later.
We can't find anything in the shops, even the bare minimum. But we'll get through.
Tunisian people are very angry. We want the people to take power. We can't accept those who've been with the president for years and years and have done everything together with him. No way!
Our only chance and hope is that the army takes over and starts everything from the beginning. This is not over yet and many more people may die.
I hope the same group from yesterday will go back to the streets today. I am too old for this but I am proud of our youth. Facebook has been fantastic and we will never forget what al-Jazeera is doing.
I am not surprised about what is happening right now. Everything has limits. There was no economy, no structure, no motivation, no nothing. What can you expect then? People go out because enough is enough.
Rick Park, American teacher in Tunis
Our neighbourhood has been pretty insulated from recent events until last night. We heard shots and smelled smoke all night. When I went out this morning I discovered that our local supermarket was burnt.
I get the impression that the businesses that are being targeted are the ones owned by powerful political families. Little businesses in my neighbourhood have stayed intact.
My Tunisian friends from around town though have witnessed lots of looting. Many Tunisians think roaming gangs are part of the president's old party. Others think it's just young punks taking advantage.
Bottom line is, there does not seem to be any control of the streets now.
Yesterday, a group of Tunisians went to the port. There's an area there where new cars get delivered. The dealerships are owned by the families of political leaders.
So this group of Tunisians got hold of the cars, drove them around town and crashed them. I've seen a video on Facebook and a friend of mine told me that one of those cars was crashed in her street.
So that shows you some people's idea of fun.
None of my friends has been out protesting. People are scared and are staying at home.
I have no plans to leave, I'll go by what the US embassy says. We stay put for now and hopefully things will calm down. But it's really hard to say what will happen.