Takoradi student: 'I don't want to be a burden'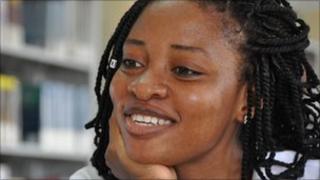 Alberta Adjei Mensah, 23, is a final-year student in Purchasing and Supply at Takoradi Polytechnic.
I'm looking for a job in procurement, because that's what I'm studying.
It's very, very difficult to find a job. We have few companies here in Takoradi. It's very competitive. There are a lot of first-class students who have finished university or polytechnic sitting at home because they can't find jobs.
It's just recently because of oil that people are establishing businesses here, so maybe there is hope for the future.
We drilled oil in December and after that I went to see the manager of an oil company. He was laughing and saying "You are not finished school and you want to work!" I said, "No sir, I just wanted to make the links."
He said when I finish I should come and see him. I hope he doesn't change positions, so he can offer me a job.
Corruption concern
We are a family of four. My twin brother is also a student.
My father is a policeman. My mother is a firefighter. She enjoys it, she has a passion for it. She is a strong woman.
My mother is paying the fees for me and my brother, and one person paying two people's fees is not easy.
Firefighters in Ghana are not paid very much. So she has taken out a lot of loans to cover our fees.
Sometimes, I come to school and I don't have the money for fees. It's embarrassing because I'm a student leader and I'm supposed to set an example. I have to go to the rector for permission to wait to pay.
These are the stressful moments of my life.
That's why I want to get a good job. That's why I don't joke with my studies. So when I finish, I won't be a burden to my mother. Right now I'm a burden.
With the oil revenues, the government should build factories, because there is a lot of unemployment. Students don't get jobs because the job market is choked.
But if I was to have a face-to-face talk with the president, I'd tell him that he should use the oil for three things: agriculture, health and roads.
In my country, I would say corruption is very high, everywhere you go. You go to the fishing industry, it's there. You go to the mining sector, it's there. It's everywhere.
So I don't give the government 100% confidence to spend the oil money correctly. But I hope for the best.