Takoradi DJ: 'At times I am confused about what I want'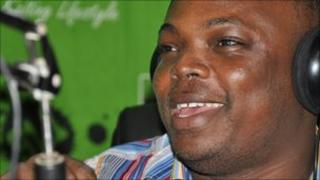 Nana Otu Gyandoh, 35, is a presenter on Melody FM, a music and sport radio station in Takoradi.
Takoradi is the most outward-looking place in Ghana. It embraces everyone.
The oil is a new rallying point, it's what we deserve.
My passion is to see Takoradi grow and become the first cosmopolitan city in Ghana.
The city has a distinctive local patois, Takoradi Fanti, a mixture of everything including English, French and Jamaican patois.
We have a hip-hop culture, with music, dance, language, the walk, even the dressing.
Over the years, we've felt that Takoradi has not been given due attention.
In Ghana, everything happens in Accra or Kumasi. We don't even have a university. But the region provides all the natural resources, such as bauxite, gold, fish and cocoa.
Before the oil discovery, things in Takoradi were slow. Even banks started to close. The Central Business District was virtually at a standstill.
We were crawling. Colleagues moved away, you'd find they'd left you behind.
I had a circle of friends. There used to be 16 of us. Everyone left except two.
'Pubs only for expats'
There were just two private radio stations. But since the oil prospects came, we now have nine radio stations.
We never had a traffic situation in Takoradi. You could sleep late and not be late. Now traffic is increasing.
Sometimes I get confused myself, whether I love the slow, easy nature of the city, or if I want to see the improvements.
Now there are clubs and pubs that cater only to expats. It's not written but you know it by the service and the prices.
Takoradi used to thrive on its social scene. I loved this town for that.
On Sunday evenings, from 4pm to 8pm, people would dress up and go to show off at the beach.
There were pockets of Takoradi beachfront where anyone could go and spend time. But suddenly all of them have been sold.
One beachfront we used to love was bought by an expat firm for $1m (£618,000).
I'm scared at the rate things are changing, and we don't have any control.
Girls my age are not interested in the likes of me. They want to hook up with a white man. Our social set-up has been shaken and we are yet to come to terms with it.
With the oil revenue, we need to spend on education. I want to see a university in Takoradi. We need subsidies in school fees. I also want to see a bigger hospital.
I want to see the government succeed in appeasing the people of western region.
We feel we have been wronged for a long time. Resources have been taken from this region and used in developing Ghana and we have not been given our fair share.
There are people who are angry in this region.
So I am saying get people involved with oil, go back to communities and help them to use the money saved from oil.