'I imagine six-lane highways and malls' - engineer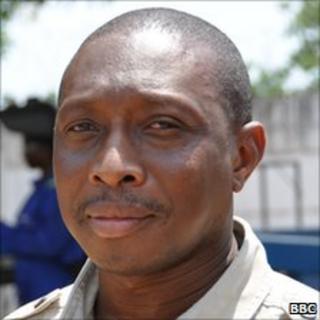 Alfred Fafali Adagbedu, 47, owns Seaweld Ghana.
I'm a marine engineer. I trained in Ghana, and initially I worked here, but I had to go abroad because there was no oil here.
I had the opportunity to work for many oil companies abroad and to get rich experience.
But three years ago, with the oil find in Ghana, I decided to come home to establish Seaweld Ghana.
We act like a one-stop shop for the oil and gas industry.
We provide welding and fabrication services. We provide labour to the rigs, from derrick hands to roustabouts, and we do procurement.
The Jubilee oil field is a big one by any standards in the world, and this find is only the beginning. Ghana will see a lot of other big discoveries.
I saw enormous opportunities here when I came back, and everything in the past three years has proved me right.
In terms of the political atmosphere and the economic environment, Ghana is the best place for business in Africa.
My company has seen growth of 80% each year. We started with four employees and after three years we've got 150.
All of them are Ghanaian and that is important, because we are striving for local content.
'Fat pay cheques'
It's very important that training is tailored to the oil and gas industry. Standards are very high, and you need to meet those standards before getting a job. We are competing with international companies in bids.
So we need to build up skills in Takoradi. At the moment local technical institutions don't have the capacity to train people.
We decided to do training as part of commitment to corporate responsibility. We do not want the problems seen in other parts of the region. We don't want oil to be a curse.
We want Ghanaians to be involved. To do that, we need to give them skills and jobs, to stop problems in the future.
Takoradi is going to change in a drastic way.
The transport industry is going to improve, because workers on the rig are going to need to be transported.
Agriculture is going to see a boom because all those people on the rig will need to be fed.
Landlords are going to have more paid to them.
Even market women are going to see more business, because a lot of workers are going to have very fat pay cheques.
Everyone in this city is going to gain in business.
In five years time, I see Takoradi becoming one of the modern cities in world.
I can imagine skyscrapers, six-lane highways and malls, just to provide for the oil industry here.