'Everything here is oil, oil, oil' - hairdresser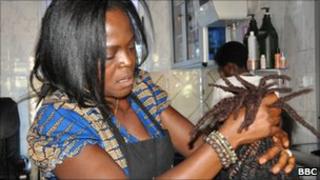 Vicky Hughton, 47, is the owner of Style Salon hairdressers, on Liberation Road in Takoradi.
I started with two small hair-dryers in 1989, and I've been in this shop since then.
When they said oil was coming, our expectations went high, high, high.
One day, some oil people brought a van full of people to have their hair done.
I think they were Nigerians. I knew they were not Ghanaians because of their accents.
They said: "Have you got air conditioning here?" When I told them I didn't, they said: "We're leaving, we want a place where we'll be comfortable."
People connected to the oil industry want higher standards. So I said to myself, I have to do a renovation.
I put in air conditioning. I have new tiles on the wall, I've changed my hair-dryers. Everything here now is new.
It's a gamble, but I'm confident.
Since the renovation, business is booming. Sometimes we close at one or two in the morning. And people are still waiting, refusing to leave the shop!
I'm getting a lot of new clients. Whenever I ask where they work they say: "In an oil company, in an oil company."
'Not benefiting everyone'
I'm diversifying because this oil is going to last for 30 years. So we have to aim high.
In a year's time, my shop will have moved to the next level. I want to move out of Liberation Road into bigger premises.
I have three wonderful children. My big boy, is in university. My two girls are in school.
It's not easy to get three children through university in Ghana today. You have to plan for it.
I'm already saving for the girls' education. I want to get more clients to get the children through university.
All family
All has changed on this street, Liberation Road.
If you live on the main street, the landlord will want to take your house from you and turn it into a shop and rent it out.
I was paying peanuts for rent. Now it's gone up. Every time the year ends, the landlord brings a new letter asking for an increase.
It's because of oil; everything is oil, oil, oil.
Ten or 15 years ago, those with money here all ran to Accra. Now oil is here, they are back.
The oil is good, but it's not benefiting everyone. Oil is hurting some people too.
Takoradi is a very small nice place. We are all family, so if someone is hurting it gets to me too.