Most 'Egypt video' Zimbabweans freed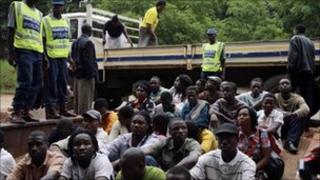 Thirty-eight Zimbabweans arrested last month for discussing an Egypt-style uprising have been freed but eight remain in custody, their lawyer says.
They were arrested on 19 February after attending a lecture and watching videos of the unrest in Egypt which toppled long-term leader Hosni Mubarak.
Among those still in custody is former opposition MP Munyaradzi Gwisai, accused of organising the meeting.
They could face charges of treason, which could be punishable by death.
Human rights groups have condemned the arrests.
Defence lawyer Alec Muchadehama said the state had dropped the charges against the 38 due to a lack of evidence.
The defence says those arrested were taking part in an academic debate about African politics.
Some have said they have been tortured in detention.
But prosecutors accuse them of discussing ways to oust a constitutional government.
"In their speeches, the accused noted that there was a long-serving dictator, authoritarian leader, general poverty, unemployment and capitalist practices where the general populace of Zimbabwe was suffering," according to the charge sheet, as reported by the AFP news agency.
Political tension is mounting in Zimbabwe, with President Robert Mugabe calling for elections this year.
The most recent polls, in 2008, were marred by widespread violence, which prompted his rival, Morgan Tsvangirai to withdraw from the contest, saying he was trying to save the lives of his supporters.
The pair later formed a power-sharing government which halted the collapse of Zimbabwe's economy but the two men - and their parties - remain bitterly divided.