Zimbabwe PM Tsvangirai in foreign investment warning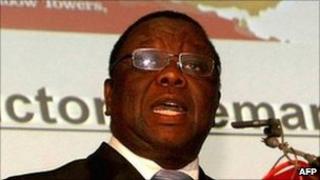 Zimbabwean Prime Minister Morgan Tsvangirai has warned that political instability could hamper foreign investment in the country.
At an investors' conference in Harare, Mr Tsvangirai said he felt betrayed by supporters of President Robert Mugabe - his partner in a power-sharing cabinet.
He blamed Mr Mugabe's backers for perpetuating "the culture of violence" and land property invasions.
A minister from Mr Mugabe's party rejected the accusation.
'Stab in the back'
Opening the investors' forum on Tuesday, Mr Tsvangirai issued a stark warning to companies looking to invest in Zimbabwe.
"It is difficult to convince the world that we have turned the corner when others are perpetuating the same culture of violence in the countryside.
"Our own minister of tourism [Walter Mzembi] can testify to the difficulty of convincing a sceptical world when others are stabbing your effort in the back. In January this year, Honourable Mzembi was in Madrid marketing Zimbabwe as a safe tourist destination when reports were splashed all over the world that people had violently invaded the lakeside resort near Harare," Mr Tsvangirai said.
But Indigenisation Minister Saviour Kasukuwere denied the accusations.
"There is no grabbing but we are saying the laws of the land will have to be implemented.
"For foreign investors they are welcome to invest in our country as long as they are aware of the regulation that we have in terms of employment," he said.
The BBC's Brian Hungwe at the conference says that - despite every effort to lure investors - the two-year-old power-sharing government is finding it not so easy to speak with one voice, and act in the common interests of the nation.
There has been much interest from African companies in investing in Zimbabwe, but also a lot of concern about the lack of political stability in the country, our correspondent adds.