Libya crisis: Thousands of migrant workers 'trapped'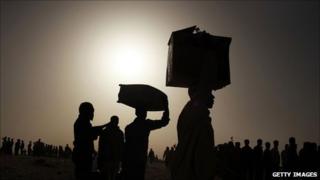 Hundreds of thousands of foreigners, mostly migrant workers from sub-Saharan Africa, are feared to be trapped in Libya, the UN refugee agency says.
Many remain in their homes across the country, scared to leave amid reports of attacks against and killings of their compatriots, the UNHCR says.
Reports suggest others at the border may be prevented from leaving by armed groups.
More than 225,000 people have fled Libya since the crisis began.
Spokesperson Laura Padoan said those still in Libya were in an "increasingly desperate and dangerous situation".
Ms Padoan said reports from those who had managed to escape across the borders, and from relatives, suggest an increase in violent attacks against migrant workers, mainly sub-Saharan Africans who are often accused of being hired mercenaries brought in by Col Gaddafi.
She said there had been dozens of reports from those who had witnessed friends or compatriots killed as they tried to flee the country.
"We've had one story of a group of Somalis who were living in a small apartment in Tripoli and a group of young men broke in wielding sticks and demanding their money and phones and then threatening to rape the Somali man's wife and their friends," Ms Padoan said.
Lack of food supplies
Another Somali man said he had been with five people when they were killed in Tripoli's Green Square.
In another case, a 12-year-old Sudanese girl was said to have been raped.
Others complained of harassment, robberies and detention by armed groups or border soldiers - incidents which she said had been described as "systematic".
She said the agency was particularly concerned about 11,000 registered refugees and asylum seekers in Libya who had fled violence or civil war in their own countries.
"We're getting these very traumatic stories by people who have already had their lives torn apart and who are now going through this violence in Libya," she said.
For those staying in their homes, afraid to leave, the lack of availabile food is of "critical concern", Ms Padoan said.
"We'd heard a week ago that they'd ran out of food and water," she said.
"And, as the situation gets more desperate, they will be forced to leave and that puts them in a difficult situation with increasing reports of attacks, rapes and people being killed".
Since the uprising began, more than 112,000 people have fled into Tunisia and 98,000 others into Egypt. Meanwhile, at least 2,000 have made the more difficult desert crossing into Niger.
A recent drop in the numbers of those crossing the border, meanwhile, appears to coincide with escalating violence between anti and pro-Gaddafi forces and the increase of roadblocks set up by both sides, Ms Padoan said.
A Red Crescent official, Ibrahim Osman, told AP news agency there were reports that pro-Gaddafi forces had blocked thousands of migrant workers from fleeing into Tunisia and had forced many to return to work in Tripoli.
There are also about 15,000 refugees camping at the Tunisia-Libya border.
In recent days, Col Gaddafi has intensified a counter-offensive against groups who took arms up against him following a crackdown on popular protests inspired by the revolution in Egypt.
At least 1,000 people in Libya are believed to have died since rebels began their uprising nearly three weeks ago.