Libya: Gaddafi's Tripoli tense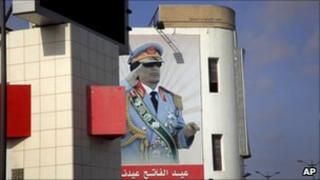 While Libyan rebels battle forces loyal to leader Colonel Muammar Gaddafi, the capital Tripoli has remained a stronghold of the regime. It is very difficult to make contact with Libyans there. One Tripoli resident, who is opposed to Col Gaddafi, tells the BBC World Service about the mood in the city:
"For us, the almost 2.5 million residents of the capital, life is far from normal by any stretch of the imagination.
For the past 10 days we have been living in the midst of what is the regime's last significant stronghold, along with the city of Sirte.
Travelling around the capital today, you can get a clear picture of what it is like to live in a regime stronghold.
Support for the government, whilst representing a minority, is overtly visible at all times - and sometimes dramatically overdone.
'Cheering and chanting'
Cars are plastered top to bottom green flags and pictures of the colonel himself.
Rallies of beeping, flashing cars can been seen in various parts of the city, with people hanging out of the windows cheering and chanting.
What's interesting is that most of these people are teenagers. The cars are shiny and brand-new and void of a number-plate, some even with the plastic protective covers still on the seats.
They add substance to the claims that the regime has paid off whole districts in Tripoli, often deprived areas, in return for support.
Anyone caught talking to the media is almost immediately arrested. Phones are monitored, and I often use multiple phones to avoid being tracked after talking to journalists.
'Customers are few'
There is absolutely no way for the journalists to gauge the real sentiment of the city.
Only a small percentage of shops are open, and of those that are open, shelves are bare and customers are few.
People tell me that they open their shops just to have an excuse to stand outside and watch and wait.
There are people on the streets and traffic is back, but no-one quite knows where everyone is going.
By and large, traffic is caused by the people on the streets queuing up at banks wanting to withdraw their savings or pick up the free 500 dinars (£255) that the regime has promised to all the families in an attempt to gain support - 42 years too late."