DR Congo lifts ban on mining gold tin and coltan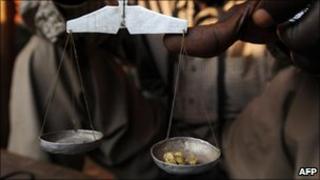 A ban on mining in the east of the Democratic Republic of Congo that was imposed six months ago has been lifted.
The government stopped mining operations in three provinces because of the involvement of criminal groups and militias in the industry.
The mining minister said there had been successful army operations against the militias since September.
Civil servants had also been deployed to ensure shipments were properly labelled and could be traced, he said.
The trade in illegal minerals has fuelled 15 years of conflict in eastern DR Congo.
Consolidated grip?
The BBC's Thomas Hubert in the eastern city of Goma says the lifting of the ban on mining tin, gold and coltan ore will bring relief to thousands of diggers and traders who had been unemployed since September.
But the recent discovery of an illegal gold smuggling route between DR Congo and Kenya has led to scepticism that the ban worked.
Some experts say both rebel movements and Congolese government soldiers have simply consolidated their grip on the trade in that time.
DR Congo's Mining Minster Martin Kabwelulu disputes this.
"We will be able to implement efficient traceability from the minerals' extraction to their exportation," he said.
"This time, everyone has made a commitment to denounce all military, civilian and police who may still be involved in the exploitation of minerals."
However, the head of the mining business federation in North Kivu province, John Kanyoni, says new US legislation could soon put a stop to mineral exports.
From 1 April, US electronics manufacturers will have to ensure they not buy conflict minerals.
"We did appreciate really the lift of the ban, but we are not solving the problem because we do still have very big issues with the US legislation, which is practically impossible today to fulfil because they are asking 100% traceability and certification."