Viewpoint: South Sudan jobs for Kenyans and Ugandans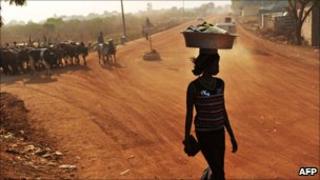 On 9 July the world's newest country will come into existence - South Sudan. For the South Sudanese, who voted for independence in a referendum in January, it's a cause for celebration. But other countries in the region can also see the upsides.
Unemployment among young people - including university graduates - has long been a big problem in much of Africa.
Kenya and Uganda are no exception. For although both countries have had very impressive rates of economic growth over the past several years, no less impressive has been the rate at which their populations have continued to grow.
On average, Kenyan woman have between four and five children - while the average Ugandan woman usually has no less than seven children.
Given this rapidly increasing population, it would take miraculous rates of economic growth, to generate enough jobs for all those entering the labour market.
Well, it now seems that the longstanding problem of unemployment among educated youth may be substantially reduced through a piece of good fortune that Kenyans - and Ugandans - are trying very hard not to gloat over.
Oil money
This is the recent vote in southern Sudan in favour of separating from the north, and forming a completely new country - a country which is geographically very close to both Kenya and Uganda, and also has much in common with them in terms of culture and religion.
There are employment opportunities here. On the one hand, this new nation is expected to have plenty of oil revenues to pay for its development needs.
And on the other hand, many things in this new country will more or less have to be built from scratch: Southern Sudan has very few paved roads, banks, hotels, or government buildings.
Above all, very few schools and hospitals have been built over the past six years, since the comprehensive peace agreement of 2005.
And before the peace agreement, there had been a 20-year civil war, which had completely destroyed the little that South Sudan had in terms of infrastructure.
Windfall
Already there are many Kenyan and Ugandan teachers in South Sudan's schools.
And there is only a limited number of South Sudanese - who attended schools in the north of their country, or in Europe and the United States - who are capable of running the institutions of the new state.
So South Sudan is expected, initially, to import almost all of its skilled manpower from Kenya and Uganda.
In addition to this, thousands of South Sudanese students are expected to go to these two countries for undergraduate and graduate studies, which will pour millions of dollars into the Kenyan and Ugandan economies, and lead to an expansion of tertiary training institutions in both countries.
Finally, South Sudan is likely to continue to be, in the years to come, a market for goods and products from the two neighbouring countries, as there are few factories there at the moment.
In anticipation of this windfall, many Kenyan banks have already opened up branches in Juba, the city expected to be the capital of South Sudan.
And so, although there are no outward signs of rejoicing over the recent vote for the succession of South Sudan, Kenyan and Ugandan leaders well understand that the creation of this new nation is a great economic opportunity for their countries.
Both Sudan and the South are reliant on their oil revenues, which account for 98% of South Sudan's budget. But the two countries cannot agree how to divide the oil wealth of the former united state. Some 75% of the oil lies in the South but all the pipelines run north. It is feared that disputes over oil could lead the two neighbours to return to war.
Although they were united for many years, the two Sudans were always very different. The great divide is visible even from space, as this Nasa satellite image shows. The northern states are a blanket of desert, broken only by the fertile Nile corridor. South Sudan is covered by green swathes of grassland, swamps and tropical forest.
Sudan's arid north is mainly home to Arabic-speaking Muslims. But in South Sudan there is no dominant culture. The Dinkas and the Nuers are the largest of more than 200 ethnic groups, each with its own languages and traditional beliefs, alongside Christianity and Islam.
The health inequalities in Sudan are illustrated by infant mortality rates. In South Sudan, one in 10 children die before their first birthday. Whereas in the more developed northern states, such as Gezira and White Nile, half of those children would be expected to survive.
The gulf in water resources between north and south is stark. In Khartoum, River Nile, and Gezira states, two-thirds of people have access to piped drinking water and pit latrines. In the south, boreholes and unprotected wells are the main drinking sources. More than 80% of southerners have no toilet facilities whatsoever.
Throughout the two Sudans, access to primary school education is strongly linked to household earnings. In the poorest parts of the south, less than 1% of children finish primary school. Whereas in the wealthier north, up to 50% of children complete primary level education.
Conflict and poverty are the main causes of food insecurity in both countries. In Sudan, many of the residents of war-affected Darfur and the border states of Blue Nile and South Kordofan, depend on food aid. The UN said about 2.8m people in South Sudan would require food aid in 2013. The northern states tend to be wealthier, more urbanised and less reliant on agriculture.