Libya crisis: Medics flee Gaddafi airstrikes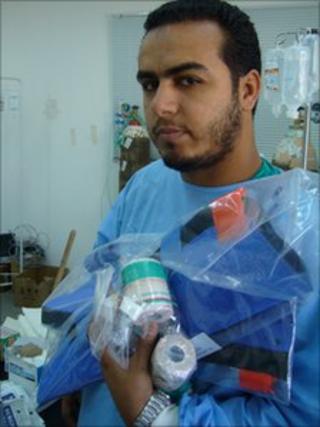 Behind the front lines in the Libyan desert, the last safe place is now not safe.
The tiny clinic at Brega, which has taken many of the wounded from the fierce fighting at Ras Lanuf, is being emptied out after it too started to come under fire.
"If you are in Ras Lanuf you have to fight, or you will be killed," says Dr Walid El Rais. "So we had to leave, and now this!"
He gestures to the sky to indicate air raids, which have become more frequent in the past few days.
The atmosphere here has changed as Col Gaddafi's forces have started to use heavy artillery and tanks to attack rebels in the east of Libya.
The rebels manning the anti-aircraft guns on the road west are jumpy and nervous. Straining to hear the noise of an incoming plane, they fire at the slightest noise.
"I never imagined I'd be working under these conditions," says junior doctor Raef Al Arouf, as he sorts and packs surgical supplies. But like all of the people here in the east, he won't admit to any fear.
"It's tense of course, but I'm not frightened. This is my work, this is my country and above all, these are my people."
The sound of anti-aircraft guns in the distance stops our conversation. The hospital was bombed yesterday and the glances of the other medics are anything but relaxed.
'Not safe'
"I don't know if the hospital was targeted deliberately but it's not safe," explains volunteer and surgeon Salem Langhi.
"We take the injured and treat them - from both sides. This is where we stabilise them, then send them on to the safer cities. But we are closing this down now because we have to."
Without a safe place for a hospital, the solution is to make treatment mobile.
Ambulances carrying teams of up to four doctors travel as far as they dare towards the constant barrage of artillery and aerial bombardment to pick up wounded and treat them in the vehicle.
However, we were told these ambulances too are now coming under fire from the air.
Dr El Rais opens up his ambulance to show me. It is basic but he explains that they can stabilise patients and sometimes even operate.
They are field hospitals on wheels and he is also keen to tell me that they treat the injured from both sides.
Walid is not actually a doctor, he's a dentist.
He came with his best friend, Ahmad - also a dentist - to work as an emergency medic, shuttling up and down to the front lines to collect the wounded.
Yesterday, though, the ambulance team his best friend was working on did not come back.
"When the planes come in they are now shooting even at ambulances and we have lost two," he said.
"I tried and tried to get through to my friend yesterday and his phone just goes dead. Same with the other three doctors who were in the ambulance with him."
He fiddles with his phone as we talk, as if it may ring at any time.
Treating streams of war wounded has been hard, he said, but nowhere near as hard as having to phone his friend's family.
"Of course I had to call his father. Ahmad is my best friend, we trained together. I spoke to him [the father] and told him what happened. But I also said I think he's alive still. He could be somewhere out there. I have to say that because that is what I hope."
Ambulances and crews start to assemble for the day and move off.
Past the clinic and along the desert road there are miles of nothingness up to the front line, and from there, chaos.
"I'm praying for him," Walid adds.