Former SA President Zuma aide Shaik arrested on parole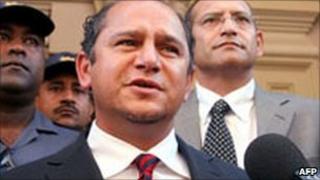 A convicted former aide of South Africa's President Jacob Zuma has been arrested while out on medical parole.
Schabir Shaik, a former financial advisor, was picked up at his Durban home after allegedly attacking a fellow Muslim outside a mosque last Friday.
It comes after separate allegations by a journalist, who claimed she was slapped by the controversial businessman on a golf course.
Shaik's corruption charges nearly cost the president his political career.
In 2005, Shaik was sentenced to 15 years for fraud and corruption, including soliciting of a bribe from an arms company and covering up Mr Zuma's unpaid debts.
Alleged attacks
Two years ago, his release on medical parole sparked controversy because of his high level political connections.
Now out on parole after serving less than two-and-a-half years of his 15-year-term, one of South Africa's most notorious criminals is back in custody.
Shaik was returned to prison after two separate reports alleged he attacked members of the public.
Two weeks ago he was accused of slapping a journalist who approached him on a golf course.
Then, on Friday, he allegedly punched a man outside a mosque who was travelling to visit his sick daughter in hospital, and who accused Shaik of inconsiderate parking.
Shaik, whose brother heads up South Africa's intelligence services, was formerly Jacob Zuma's financial advisor.
After Shaik's high profile trial, Mr Zuma stepped down as deputy president. But he returned to secure victory as South Africa's president in 2009.