Ivory Coast crisis: Gbagbo forces attacked in Abidjan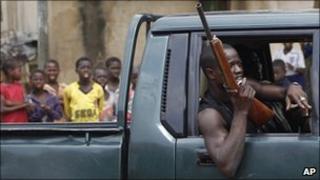 Forces backing Alassane Ouattara have attacked those loyal to disputed President Laurent Gbagbo in Ivory Coast's main city, Abidjan.
Heavy gunfire was heard in two districts close to military bases late on Monday.
The BBC's John James says it extends the conflict without reaching the all-out civil war feared by many.
Mr Gbagbo refuses to step down although Mr Outttara is widely recognised as the winner of last year's election.
This is the first time there has been fighting in the pro-Gbagbo suburb of Yopougon and the pro-Ouattara area of Adjame since the stand-off began last December.
Our reporter says it remains unclear whether the pro-Ouattara forces gained any ground or just launched attacks from their strongholds in the northern suburb of Abobo.
The areas are said to be quiet on Tuesday.
A police source says pro-Gbagbo forces remain in control of the CRS military barracks in Adjame, reports the AFP news agency.
"We are busy carrying out a sweep of the area, but the fighting was very, very hard," the source said.
Our reporter says pro-Ouattara forces in Abidjan are gaining in confidence and extending their reach, but so far the main pro-Ouattara forces in the northern half of Ivory Coast have yet to move south from the territory they have controlled since a 2002 civil war.
They have, however, been gaining some ground in the west, near the Liberian border, which more than 75,000 people have crossed amid fears of widespread conflict.
More than 370,000 have also fled their homes in Abidjan, following recent clashes in pro-Ouattara districts.
A spokesman for Mr Ouattara has denied that the forces behind the Abidjan attacks were under his command, reports the Reuters news agency.
Late on Monday, state TV, which is controlled by Gbagbo loyalists, reported army generals had met Mr Gbagbo and "big decisions" would be announced in the coming hours.
The raids have been blamed on the mysterious "Invisible Commandos" militia, set up to protect Ouattara supporters in the city.
The election was supposed to reunite the country divided since the New Forces rebels seized the north in 2002.
The UN has some 9,000 peacekeepers in Ivory Coast monitoring the ceasefire and helped organise the election.
Both the UN and African Union have said that Mr Ouattara won the election.
But the Constitutional Court annulled votes cast in the rebel-held north and declared Mr Gbagbo the victor.