Ivory Coast crisis: Four shot dead in Abidjan suburb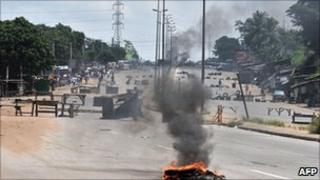 Four people have been killed by unidentified gunmen in Ivory Coast's main city, Abidjan.
Witnesses said attackers arrived in a taxi at a roadblock in the Cocody suburb and opened fire.
The city has seen heavy fighting between supporters of disputed President Laurent Gbagbo and those of his rival, Alassane Ouattara.
Clashes have spread to new areas recently, raising fears of a return to civil war.
Scores of people have been killed in violence since presidential elections in November, which resulted in a political stalemate.
Mr Gbagbo refuses to step down, although Mr Ouattara is widely recognised as the winner of the election.
Marco Abade, a resident, told Reuters he had heard a "burst of shooting" near a roadblock set up by youths loyal to Mr Gbagbo, behind the local supermarket.
"We heard screaming and there were four bodies of youths on the road," Mr Abade said.
There were conflicting reports from witnesses about whether the victims were members of the pro-Gbagbo militia or those loyal to Mr Ouattara.
'Last chance'
"I saw three people get out of a taxi, machine gun in hand; they started firing at passers-by, it was horrible," one resident told AFP, adding that the attackers fled in the same taxi.
On Monday, forces backing Mr Ouattara attacked supporters of Mr Gbagbo in Abidjan.
It marked the first instance of fighting in the pro-Gbagbo suburb of Yopougon and the pro-Ouattara area of Adjame since the stand-off began.
Fighting has also spread to the west, across a north-south ceasefire line in place since the end of the 2002-2003 war.
Meanwhile, Mr Ouattara said he was offering Mr Gbagbo a "last chance" to leave the presidency and end the country's political crisis.
Mr Ouattara has said he is willing to form a national unity government as well as fuse the two rivals' armed forces and create a truth and reconciliation commission.
"It is time that he accepts the will of the Ivorian people and the African Union," Mr Ouattara said in an address to the nation on a television station he controls.
More than 370,000 have also fled their homes in Abidjan, following recent clashes in pro-Ouattara districts.
The election was supposed to reunite the country divided since the pro-Ouattara New Forces rebels seized the north in 2002.